General meeting 2020
Brick and tile industry defines sustainability as central issue for the future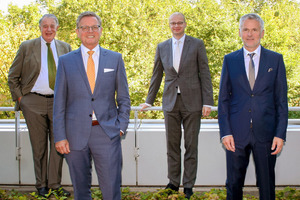 Photo/Foto: BV Ziegel
»
Hans Helmuth Jacobi, Stefan Jungk, Dr Matthias Frederichs and Johannes Edmüller (left to right) want to actively press ahead with the topics of energy efficiency, climate protection and recycling for the clay brick and tile industry
Photo/Foto: BV Ziegel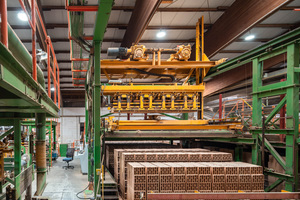 Photo/Foto: Ziegelwerk Bellenberg
»
Since 1990, the brick and tile industry has saved 40 percent CO
2
in production. With further investments in research and development, the climate-neutral transformation of the industry is to be achieved by 2050.
Photo/Foto: Ziegelwerk Bellenberg
At its general meeting in September 2020, the Federal Association of the German Brick and Tile Industry announced the drawing up of a roadmap to climate neutrality by 2050, setting the course for more sustainability in brick and roofing tile production.
"Although the German brick and roofing tile industry has reduced its CO2 emissions by 40 percent since 1990 and is therefore exemplary in international comparison, we shall and want to further increase our efforts," stressed President Stefan Jungk. At the beginning of 2021, the Association will draw up a roadmap showing what measures and investments are necessary to achieve an extensively climate-neutral production by 2050. "The increase in the CO2-saving goals from 40 to 55 percent by 2030 announced by the EU Commission would mean considerable additional efforts and bring many of our members to the limits of what they take," warned Jungk. Being capital-intensive, the industry needed certainty for planning and investment rather than constant competition for the short-term tightening of goals.
General Secretary Dr Matthias Frederichs announced that sustainability issues will move into sharper focus of the Association's work. "In the political discussion, it was more important than ever to eliminate information deficits with regard to the sustainability of bricks. We want to close these gaps in knowledge with new publications, an intensification of public relations and targeted political communication." "With an expansion of our networking we also want to make sure that our concerns are better heard on political level," said Frederichs. At the end of September, attention had been caught by the policy statement of the Sustainable Solid Construction Network in which the Federal Association of the German Brick and Tile Industry together with 29 other associations and institutions in the construction industry appealed against the one-sided preference of individual construction methods or building products.
Despite a still relatively stable market situation, there remained concerns with regard to possible delayed declines in demand. "If the economy recovers as quickly as hoped we'll come out of this crisis relatively unscathed. If the economic collapse caused by Corona lasts longer, the impact will leave a mark in the construction industry," fears Association President Stefan Jungk.