maxit Gruppe
Creative solutions for contemporary construction and renovation projects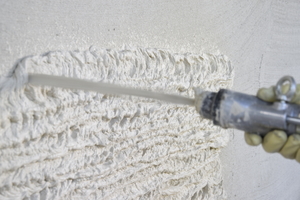 Photos/Fotos: maxit
»1
The new "Ecosphere" insulating system in its first application as a sprayable mortar-based interior and exterior wall insulation
Photos/Fotos: maxit
In times of waxing ecological awareness, maxit (Azendorf) appeared at BAU 2019 in Munich with ecology as their main theme:
With their mineral-based spray insulation "Ecosphere" for interior and exterior walls, this Franconian company is ringing in a new era in thermal insulation. "Resource conservation, weight reduction, long-term stability and simple processing with no glue or dowels needed all set our product apart from the competition", explains Reinhard Tyrok, marketing manager at maxit. Ecosphere is the result of a long-term research project conducted with financial assistance by the German government. "We are talking about the unification of glass and mortar, the result of which is an entirely new generation of building materials", says Tyrok. Vacuum hollow glass microspheres join up with advanced mortar technology to create sprayable interior and exterior wall insulation.
Conventionally unconventional – straw-panel ETICS
The new straw insulation panels for external thermal insulation composite systems (ETICS) are another interesting option. As a nearly unlimited agricultural by product, straw is readily available and has been in use for centuries as a construction material with excellent insulating properties. Now, maxit has found a way to produce a safe, sustainable insulation solution for modern construction: The overall process consists of pressing the raw material into panels, with a completely biodegradable protein adhesive serving as binding agent. "So far", explains Tyrok, "we only have a pilot plant. We are therefore consciously taking the results of BAU 2019 as a yardstick for progressing toward industrial production."
Winter mortar
Even in the course of construction, ambient temperatures play an important role, often posing a challenge for construction contractors: Frosty nights can have negative effects on the properties of one or the other building material, meaning that work involving any such material comes to a stop. This is where "maxit multi 292 EIS" comes to bear as an adhesive reinforcing mortar that loses none of its hardening and setting properties in cold weather, even at temperatures as low as minus eight degree Celsius.
maxit Gruppe
www.maxit.de