Germany's brick and tile industry holding steady in 2014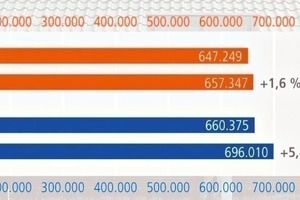 Source/Quelle: German Federal Statistical Office/ Statistisches Bundesamt, Wiesbaden
»1
Roof tile production in 2014
Source/Quelle: German Federal Statistical Office/ Statistisches Bundesamt, Wiesbaden
All those great expectations on the part of the German brick and tile industry's national association Bundesverband der Deutschen Ziegelindustrie e.V. (BVDZ) and its members following their weather-assisted good start last year have now gone unfilled. The good first quarter in 2014 was followed by a poor half year. Thanks only to improved sales during the last quarter was the branch able to close out the year with a balanced result.
For three years now, the branch's output has remained fairly constant. Nor has there been any substantial change in the number of companies and employees operating in the brick & tile sector. The various product categories, however, performed disparately in 2014. Roof tile producers, for example, were able to marginally increase their outputs and prices, while the makers of masonry bricks and clay pavers registered stagnation. At the same time, facing-brick and clinker-brick manufacturers were doing well enough for themselves.
Roof tiles
According to data provided by the German Federal Statistical Office (Destatis), the number of roof tiles produced in 2014 added up to 657.3 million (2013: 647.2 million) for a gain of 1.6 %. German roof tile producers also were able to increase their gross output value: products worth € 696.0 million (2013: € 660.3 million) stood for a 5.4 % increase. Unfortunately, too many of those roof tiles never left the factory grounds, because the buoyant mood at the beginning of the year led to more tiles being produced than could be sold for the rest of the year.
Clay masonry units
As calculated by Destatis, the volume of clay masonry units produced in 2014 was nearly identical to the 2013 figure, i.e., a total of 6.97 million m³ compared to 7.09 million m³ in 2013. The value of production, though, rose from € 545.2 million in 2013 to € 559.0 million in 2014 (up 2.5 %). That figure covers the overall output of backing bricks € 373.1 million), facing bricks (€ 128.9 million) and clay pavers (€ 57.0 million).
Bottom line
and prospects
Despite media reports about a residential building boom, markedly higher numbers of building permits and rapidly rising prices, the brick and tile industry has not really been benefitting. There are many reasons to be cited. To quote Martin Roth, managing director of Bundesverband der Deutschen Ziegelin­dustrie e.V. (BVZI – Germany's national association of the brick and tile industry): "For one thing, not every building permit equates to a finished building. Many of the building permits that have been issued in recent years still remain unimplemented. For another, practically the entire increase has consisted of multi-unit residential projects in the inner-city areas of boom towns. That segment of the market, however, has next to nothing to offer for the roof tile industry and much too little for the backing brick branch."
BVZI is expecting more of the same for the current year. As Martin Roth sees it, "The annual number of new detached and duplex units has remained constant for years on end, and no change is in sight. Apparently, numerous potential owner-builders remain unable to convert their castles in the air into brick-and-mortar projects. Perhaps it would be a good idea for us to join hands with other concerned associations and do more to encourage the clientage to make their dreams of owning their own homes actually come true."
Fortunately, things quieted down a bit last year in connection with energy and environmental issues. Unfortunately, though, new trouble is looming on the horizon. The carbon leakage criteria for the period after 2020 are under discussion in Brussels, and Germany is preparing a revised version of its Renewable Energy Act. In the view of Association President Helmuth Jacobi's, "If the environmentalists were to get their way, we would immediately have to abolish the "subsidies" for energy intensive industries. Luckily, they are still in the minority, but even the present federal administration cannot deny having a certain hostile attitude vis-à-vis such "dinosaurs". Consequently, we must join forces with other energy intensive branches of industry and defend ourselves at the national and European levels in order to remain internationally competitive. Even the European Union has recognized the fact that affordable energy amounts to an essential locational asset, while heavy costs make companies move their operations to other countries. Sooner or later, excessive environmental requirements are bound to damage the German economy, especially if they lead to extremely high electricity tariffs."
Bundesverband der Deutschen Ziegelindustrie e.V. represents a total of 90 companies with some 111 production facilities and a good 8380 employees. The total turnover of all members together comes to approximately € 1200 million per year, some 20 % of which derives from exporting to points within Europe.
Bundesverband der Deutschen Ziegelindustrie e.V.
www.ziegel.de