Ceramics for a circular economy
KNB presents 'Circular with Ceramics' poster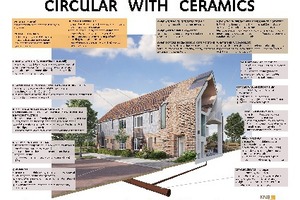 Graphic/Grafik: KNB/Funda House©
Graphic/Grafik: KNB/Funda House©
The transition to a more circular economy in which the value of products, materials and resources is maintained in the economy for as long as possible and the generation of waste minimized is essential on the way to a sustainable, low-carbon and resource-efficient economy. It is the clear ambition of both the European Commission and the clay brick and tile industry as circularity is a main theme in the "New Green Deal" presented by the European Commission last December.
To boost this ambition and show how far the Dutch ceramic industry has already progressed, the Royal Association for Building Ceramics in the Netherlands (KNB) presented a poster entitled 'Circular with Ceramics'. The visualization succinctly shows the many possibilities for fired clay products in the circular economy. The applications are shown using an artist's impression of the innovative Funda House©, composed from the preferences of visitors to the Netherlands housing website Funda.
Clay extracted from the large rivers in the Netherlands is a renewable raw material. It is a natural and widely available, and additionally local raw material. The renewability of clay is shown by scientific research by Deltares in collaboration with the Universities of Utrecht and Wageningen. ''This infinitely available primary raw material is a welcome addition to a secondary-raw-materials-based circular economy," said KNB Director Ewald van Hal at the first unveiling of the artist's impression. He points to the added value of clay extraction for the proven development of new nature (in the meantime designated as Natura 2000 area) and the contribution to high water safety in the Dutch river area.
Lifelong maintenance-free
In the phase of use, ceramic products stand out, including those for construction, thanks to their very long life without a need for maintenance. Furthermore, the products are non-combustible, non-toxic, with lasting colour and shape, giving unprecedented possibilities for reuse. All this results in a favourable environmental performance over the entire lifetime, referred as Environmental Cost Indicator ('MKI' value, a common indicator for the environmental impact of products in the Netherlands).
Funda House© and the value of style
Heeren 5 Architects (Amsterdam) and Dingeman Deijs Architects (Amsterdam) designed the dream home of the Dutch residential consumer on the basis of 'Funda's big data': a terraced castle. In this terraced house with the spatial feeling of a castle, many ceramic building products are used. This should not be really surprising because the residential consumer in the Netherlands prefers building ceramics (like facing bricks, ceramic roofing tiles and ceramic wall and floor tiles). This is also stressed by a research project by the Planning Bureau for the Environment (PBL) of the Dutch Administration and the Amsterdam School of Real Estate (ASRE). 'The Value of Style' from the year 2014. In connection with the users' material preference, this leads to careful and sparing use. That, too, is circular!