Series prefabrication of brick wall elements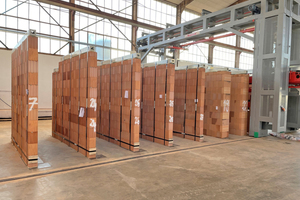 Photos/Fotos: Fertigteile Bayern
»
Prefabricated brick wall elements from Fertigteile Bayern shorten construction times, providing high planning and execution reliability.
Photos/Fotos: Fertigteile Bayern
Shorter building times and a high degree of planability, system reliability and energy efficiency: clay brick wall elements for masonry construction are now available from Fertigteile Bayern GmbH. The company has been started up under the umbrella of though Leipfinger-Bader corporate group, as it says in a company press release. The storey-high elements for exterior and interior walls are built with mineral mortar and available with integrated roller shutter boxes and optimal ventilation systems. Moreover, they can be supplied as an integrated solution complete with preparations for installation. Series production began in January 2022 at the newly set-up production facility in Vilseck/Schönlind (Bavaria).
Built with the group's own energy-efficient assortment of high-precision clay units, the new brick wall elements from Fertigteile Bayern GmbH enables fast realization of modern, sustainable homes, says the company. Against the background of the skills shortage, the advantages of prefabrication with easy installation at the construction site should be very effective.
From design to installation
Fertigteile Bayern designs the brick wall elements in 3D with the modern Nemec wall design system, which at the same time serves as a cross-disciplinary platform for architects, engineers and building contractors, optimizing workflows. Then the wall elements are assembled in the production facility, which has been newly built specifically for this purpose, in Vilseck, Bavaria. Here, fully automatic production equipment from Rimatem is used. The wall elements are delivered in special transport containers. With their especially high payload, these enable simultaneous transport of six 36.5-centimetre-thick brick wall elements with a total length up to seven metres. They are erected directly after delivery or later depending on the construction manager's plans. "With the production of prefabricated wall elements, we have found an important solution for the complex challenges with which the construction industry finds itself confronted today. On time for the start of the new year, the start signal was given for series production and we have already successfully realized the first projects," says Thomas Bader, Managing Director of the Leipfinger-Bader group of companies, of which Fertigteile Bayern is part.
Cost-efficient and sustainable
The prefabricated wall elements can be used to time-efficiently build detached homes, conversions and extensions, production and storage facilities as well as offices and commercial buildings. Installation of the 11.5- up to 49-centimetre-thick brick wall elements takes just a few hours at the construction site and, thanks to the preassembly, offers high planning and execution reliability. Armed with this foresight, construction companies can expediently coordinate dates and plan deployment of workers expediently. Cutting of bricks at the construction site is no longer necessary and any quantities required can be calculated precisely in advance. Transport is also reduced. This leads to a high CO2 saving during the construction phase. Factors that underscore the cost-efficiency and sustainability of our construction method, says the company.