Sustainable pavers for representative and durable outdoor surfaces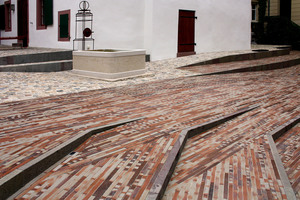 Arbeitsgemeinschaft Pflasterklinker, Guenzl
»
Münsterplatz in Basel, Switzerland
Arbeitsgemeinschaft Pflasterklinker, Guenzl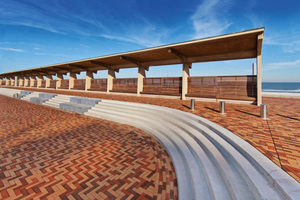 Arbeitsgemeinschaft Pflasterklinker, Espendiller + Gnegel
»
Beach promenade in seaside resort Wenduine, Belgium
Arbeitsgemeinschaft Pflasterklinker, Espendiller + Gnegel
Clay-fired pavers are among the traditional building materials for high-quality and durable pavements in public and private areas. With its variety of colours, formats and laying patterns, this sustainable and durable natural product offers almost unlimited design possibilities.
Representative outdoor surface design
Clay pavers are used both for paving inner-city traffic areas such as local main roads, residential streets, passable pedestrian zones and public car parks, as well as in gardening and landscaping. The resistant clay bricks are mainly used when it comes to designing representative outdoor areas that blend harmoniously into their surroundings and enhance the living environment. The colours of pavers have changed a lot in recent years. In addition to traditional red, brown and orange tones, lively colours such as blue or yellow as well as light or dark trend colours such as light grey, graphite or anthracite can be produced.
Interesting long formats and infiltration-capable installation
The high material strength of pavers makes it possible to produce bar and long formats in lengths of up to 400 mm. When laid on edge, the visible slim width of the 40 mm, 52 mm or 71 mm brick formats creates an interesting joint pattern. In addition to the proven herringbone and elbow joints, stretcher joints are also possible, combining format lengths of 400 mm, 360 mm, 320 mm, 280 mm and 240 mm. With embedment depths of 100 mm or 115 mm, clinker pavers laid on edge are among the highest-quality coverings available.
Pavers can also be laid so that they can be infiltrated with the help of widened joints or special infiltration or perforated clinkers. This prevents the sealing of surfaces, rainwater can seep into the subsoil and contribute to groundwater formation.
Colourfast, impervious and easy to maintain
Burnt through and through from the respective clay colour without chemical additives, paving clinkers are colourfast and lightfast. Even after decades of UV exposure, they do not fade. Even strong temperature fluctuations, snow, frost and ice have little effect on the densely fired clinker. Due to the high-strength ceramic bond, paving clinkers are also impervious to dirt, abrasion, scratches, salt or acid effects. It is not without reason that the beach promenades on the German and Belgian coasts are largely made of paving clinker. Of course, traces of use cannot be completely avoided even with pavers, and the patina formation typical of ceramics is sometimes even desirable. Adhering dirt or green formation can be removed with suitable mechanical or chemical agents. With the unbound standard construction method, soiled or defective clinker bricks can be easily removed, cleaned, turned over or replaced.
Sustainability, reuse and recycling
Ceramic clinker paving is low-maintenance, easy to care for and has an above-average service life of up to more than 100 years. A long service life conserves resources and is a prerequisite for a positive sustainability rating. The clay for paving clinker production comes from local clay pits, eliminating the need for long transport routes. Clay pits are recultivated, provide new habitats for animals and plants and contribute to biodiversity. Energy consumption and CO2 emissions in production have also been significantly reduced in recent years through investments in innovative kilns and processes.
Used pavers are a sought-after building material because of their individual appearance. Old pavers are in great demand for building projects in historical surroundings and for listed buildings. If they can no longer be reused, the bricks, which can be degraded according to type, are a sought-after recyclable material for technical aggregates in road, path and sports field construction or for vegetation substrate. Broken bricks produced during brick production are not waste, but are also recycled. Moreover, depending on the type of clay deposit and production, broken bricks or excavated material from construction sites can substitute part of the raw materials for new bricks. There is further potential in the use of recycled aggregate for resource-saving concrete, so-called R-concrete.