Händle GmbH Maschinen und Anlagenbau
The crucial difference is service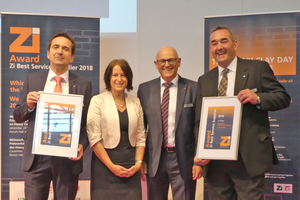 Photos/Fotos: Zi
»
Händle, represented by Dietmar Heintel (left), Gerhard Fischer and Michael Gulden (right), receive the certificate for second place as "Zi Service Supplier 2018" from Zi editor Anett Fischer at ceramitec 2018
Photos/Fotos: Zi
At ceramitec 2018, Zi Brick and Tile Industry International presented the Zi Service Supplier Award for the first time. Exclusively on the votes of Zi readers, three suppliers were honoured for offering their customers the best service. Händle was the company voted into second place. Managing Director Gerhard Fischer; Dietmar Heintel, Manager of Service Sales; and Hans-Jörg Walter, Sales Manager, informed us about the service that, for Händle, makes the crucial difference.
Händle won the second place in the Zi Service Supplier Award in 2018. What does this award mean for you?
D. H.: This award shows us that we are on the right track. We shall continue to commit fully to optimizing our customer service. In this connection, we are aware that service requirements for companies in plant and machine engineering will continue to increase, especially on digital level.
Second place behind a major plant supplier in the industry means for us that we have been given first place as machine supplier.
Is service a guiding principle in your company and a tenet in your corporate philosophy?
G. F.: Service has enjoyed extraordinarily high importance at Händle for many years and is therefore firmly anchored in our corporate philosophy. "The crucial difference is service" is one our maxims. Our know-how and our experience guarantee a competitive edge for our customers – and that for as long as the life of the machine or plant!
D. H.: All activities in the last 20 years have been geared to optimally supporting our international customers in various regions of the world. Examples of this are the establishment of Händle Service in Poland in 2003. In 2010, Händle Service in Russia was added.
Since the strategic takeover of ZMB Braun and Kampen in 2014, we can provide customers with complete support, from preparation to shaping in the die, and as such offer a unique service from a single source. In 2014 came the construction of a new warehouse for replacement parts with over 6 500 permanently available replacement and wear parts, and in 2015 the founding of the North/East service base in Bad Salzuflen. As a Steele subsidiary, we offer a worldwide service with the group branches in Australia as well as in North and South America.
G. F.: The importance of the service concept in our company is also reflected in the organization: The service division is a self-contained company business division with profit responsibility, which makes up around 50 % of our sales. Dietmar Heintel heads this division as authorized officer.
What does customer service mean for your company?
D. H.: Good customer service is an elementary component in our company. We try to offer our customers much more than they would expect when they buy our machines. This includes high-quality and individual services that are adapted to the customers and their specific needs.
Service means for us primarily an exceptionally fast response time. We have created the preconditions for this in recent years with our extensive replacement and wear part warehouse. As I have already said, Händle has over 6 500 different replacement and wear parts in stock. In addition, we offer flexible and fast individual part production, as well as continuous further development and upgrade of the products to the state of the art.
H.-J. W.: For us in sales, the maxim is: Without comprehensive service, we can no longer sell a machine today. The average lifetime of a Händle machine lasts over 30 years. Offering first-class service over such a long period of time is a challenge. To put it simply, that means everyone makes wear parts – replacement parts are more challenging.
The topic of predictive maintenance and servicing is gaining in importance. How do you support your customers with this?
D. H.: We offer the Händle service check to save our customers the disproportionately high costs that are incurred in the event of damage or a fault. On prearranged appointment, an experienced application engineer visits the customer and checks the machines on site. Here we differentiate between three stages: the first stage comprises inspection of the plant during operation. In the second stage we ask customers to inform us about a scheduled shutdown of the plant so that we have the opportunity to check the machines while they are not up and running. In the third stage, a focussed machine check is performed down to the last detail. Naturally, on each of the three levels, the actual condition of the machines is logged and discussions are held with the customer with regard to introducing any appropriate measures.
Do you offer seminars or training courses for customers so that even employees without comprehensive training can operate their plants and machines?
D. H.: Yes, we offer a practical workshop at our premises in Mühlacker, our "Händle Academy".
Here our customers can widen their know-how on optimized maintenance, their knowledge of process applications and for improved energy efficiency. We have designed a completely new concept for 2019. Further information on this can be found on our website. The workshop lasts two days and starts with a plant tour and presentation of Händle as a company. On the second day, the participants are trained in a field-oriented seminar on their machines in preparation and shaping.
Our Händle Academy exists now for about ten years. So far, we have held approx. six to eight training courses a year with customers from Germany, Belgium and Holland.
In addition, we carry out user training on operating and servicing on site at our customers' facilities.
For our customers, it is also certainly interesting that this service is offered to them free of charge. All costs are covered by Händle, the customer only pays for the journey to us and back.
G. F.: Our goal is also to make brickmakers aware of such important issues like wear protection and energy optimization. Ultimately, this service ensures well-trained staff on the customer side, from which we also profit.
How do you impart the service concept to your employees?
D. H.: The service concept starts with us in the company management, we really live out this concept. We are continuously training and further training our employees in external customer service training courses. Here various aspects of after-sales service are discussed. Another big advantage is that our service technicians can transfer their experience from field service to customer service.
G. F.: Our business model is based on the fact that we are a service-driven company. New employees in assembly are trained and prepared both for internal and external deployment. In this context, we have both country and customer assignment. Händle field operatives do not work on a freelance basis, but as employed operatives, they form a very important part of the company.
What do you understand under after-sales service? After the installation of a machine, optimization is often needed in the factory. Do you support your customers with this?
G. F.: We don't wait until a service or other call-out to visit our customers. For us, ongoing contact as well as regular customer visits are everything. Dialogue between the customers and us as a manufacturer is also aimed at the transfer of know-how and expertise. Together with our customers, we explore potential for improvement or develop new ideas and implement these in our plants and machines.
D. H.: Under after-sales service, we understand that our customers should be optimally supported by us over the complete lifecycle of a Händle machine. This includes aspects such as quality optimization of the products, energy saving, preventative maintenance of machines, repairs, replacement and wear part supply, regeneration and mobile service but also our service helpline and the Händle Academy.
An optimization includes selective replacement of wear parts. The use of wear-resistant materials and the integration of new design features are therefore important criteria to give even older machines a new lease of life on a higher level. Naturally, we also support our customers with our advanced developments and solutions directly on site. This includes, for instance, tests or test series conducted together with the customers on site at the customers' facilities.
H.-J. W.: Good after sales also always means excellent pre-sales for the new machine business.
How quickly do you respond when one of your machines causes a problem at a customer's facility?
D. H.: As fast as possible as a great deal depends on the productivity of the machines. Therefore, it is necessary to guarantee that the machines always run smoothly and reliably. We can rely on a team of very experienced specialists. Our team currently consists of eight service technicians, an assembly manager and seven field fitters.
We set up our service help-line more than 20 years ago, which enables direct contact to our service team. Around the clock, a competent employee from the technical division is on hand, irrespective of whether it is a matter of an urgent replacement part or the deployment of a service technician on site.
In addition, we have an agreement with a local haulier, who guarantees the immediate shipment of the products.
Can you give me an example in which you were proud of the service that you offered a customer?
D. H.: There are a multitude of positive service calls in which we have been able to help our customers quickly and flexibly with our helpline. Typical examples are the supply of necessary replacement parts to our customers in the "DACH" or German-speaking countries or also call-outs for our customers in Saudi Arabia and Algeria. In the latter case, the parts were naturally sent to the customers by air cargo.
In the example of a concrete case that comprised the production and supply of a complete screw shaft for the extruder of a customer in St. Petersburg, the production time for us internally was around 12 hours and the transport time with two drivers took ca. 30 hours. Our Händle field fitter was able to start up the machine again after approx. five hours assembly time.
Have you ever received negative service feedback from a customer? How did you deal with it?
D. H.: We get negative feedback in isolated cases, even at Händle. Crucial is only how we clear up the matter or resolve the problem – now and in the future. If necessary, an appointment is arranged together with the responsible field operative at the customer's facility. Our motto here: "We have to nail our colours to the mast – we resolve any issues together!"
Do you measure customer satisfaction? If yes, how?
D. H.: After every workshop in the Händle Academy, a questionnaire is filled out, and the answers are evaluated. In addition, country-specific customer surveys are constantly being conducted. In this way, we measure not only the general satisfaction of our customers. We also try to channel suggestions for improvement and customer ideas into our day-to-day business. G. F.: At Händle, we cultivate direct communication on all levels, and we don't do anonymous surveys. That tends to be organized individually depending how the hierarchy is set up on the customer side.
How do you want to make service even better in future?
D. H.: Improvement means for us staying on the ball, so as not to miss any trends in the years to come. Especially the topic of digitalization is being pushed ahead in machine and plant engineering. An example of this is our Händle service tool, a maintenance scheduling tool of the latest generation. This proactive tool is used to monitor all repairs and services on Händle equipment.
In addition, this year we shall further increase our range of inspection and maintenance agreements to tune these more specifically to our customers' individual requirements and preferences. This also includes the topic of remote maintenance.
G. F.: For Händle, it is important that as machine engineers we don't just concentrate on our machines. We start with the pit and look at the entire lifecycle of our plant/machine. At Händle, this begins in the laboratory, where, for example, we conduct raw material and ceramic body tests. It continues in the development department and then flows through design, production and assembly to after-sales service. We understand clay!
The long machine running times enable us to constantly adapt the machines and parts to new conditions. This also applies to machines and dies from other manufacturers.
For us in our group of companies, service naturally means short delivery times, too! After the takeover of ZMB Braun, we had to improve a few things. But the corporate culture at ZMB has changed. Today, the customer is clearly the focus. In recent years, at ZMB we have undergone a very positive development and can now guarantee even more reliable delivery times. Here the complaints quota is just 0.2% today!
Many thanks for this informative talk, Mr Fischer, Mr Heintel and Mr Walter. We shall cross our fingers for you for the next Zi Service Supplier competition!
The interview was conducted by Zi Editor Anett Fischer.


Händle GmbH Maschinen und Anlagenbau
www.haendle.com