VDMA Construction Equipment
Construction equipment manufacturers cautiously optimistic
10.02.2020
The members of VDMA Construction Equipment are looking to the future with confidence. Industry representatives expect a slight decline in sales of 3 to 5% this year at an overall stable level.
Once a year, the specialist group meets in January to discuss operational issues and projects for the current year. In economic terms, the industry is still at the record level of 2018, and industry sales in 2019 will match the previous year's figure. The forecast of growth of 3 to 5% has not been met, and the cyclical downturn began early with road construction machinery. The decline of minus 12% in sales and minus 21% in new orders could not be offset by the slight increase in building construction and earthmoving machinery.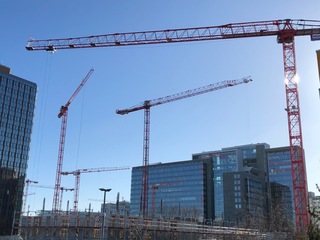 Photo: VDMA
Domestic sales for manufacturers at the German production location amounted to € 4.3 billion, exceeding all expectations. Exports were not quite able to keep up here, falling by € 1% to 8.0 billion. Except for Germany, the trend reversal began towards the middle of the year after bauma 2019. Excluding Turkey and Russia, growth in Europe is at 7%. The Near and Middle East performed very poorly at minus 25%, mainly because of Turkey, and the industry does not expect a recovery there in 2020. No boom is expected in Russia either, despite a 5% increase. Nevertheless, North America achieved a good result of 3% plus in 2019 with a poor fourth quarter, and the South American market grew by 6%, although it is unstable compared to other markets. China is still the world's largest construction machinery market and grew by 8% last year. Here too, growth has already slowed. One reason for this is not least the escalation of customs duties, where there can only be losers in the end.

Forecast 2020
The representatives of the construction machinery manufacturers expect the industry's sales in Germany to fall by 3 to 5% in total for this year. "We are still at an all-time high despite the turnaround. We are seeing a healthy development because there are no major fluctuations but only a moderate decline. However, the individual divisions are not developing evenly,"
said Franz-Josef Paus, Chairman of the German Construction Machinery and Building Material Plant Association, summarizing the situation. Overall, the construction industry in Germany and Europe remains stable. This confidence is also reflected in the CECE Business Climate Index, an early indicator of economic sentiment. While the curve followed a continuous downward trend from the middle of the year until November 2019, it changed direction from December onwards and has been pointing upward since then.

Ready to take the challenge
Another reason for the optimism is the fact that manufacturers are able to meet the challenges associated with climate change and European climate and environmental targets and offer solutions. For decades, work has been underway at EU level to reduce emissions, soot particles are no longer emitted at all by combustion engines and nitrogen oxides are emitted to a very limited extent. There is already a range of construction machinery with hybrid or electric motors, and digitalization and automation are increasingly optimizing construction processes. This has positive effects on CO2 emissions. At this point, manufacturers and users are working together across the board to make the construction site of the future possible. The most recent example is the Machines in Construction MiC 4.0 joint venture, in which the technical prerequisites are being created. In the future, these efforts are to compensate for part of the shortage of skilled workers, ensure resource and energy efficiency on the construction site and make it possible to incorporate process data into BIM. "As long as there are people, construction will continue. The industry is strong and offers solutions for sustainable management. The construction machinery manufacturers accept the challenges and see them as an opportunity to make their contribution to achieving climate and environmental goals while at the same time securing jobs through new technologies," emphasized Joachim Strobel, Chairman of the Construction Machinery Section of the VDMA.

VDMA
bub.vdma.org

CECE
www.cece.eu

MiC 4.0
mic40.org