2021 and 2022 historic years for the French brick industry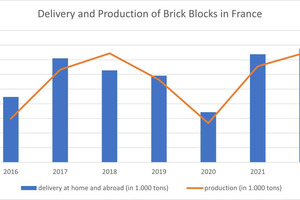 Fédération Française Tuiles & Briques / Zi
» Production and delivery of brick blocks in France 2016 - 2022
Fédération Française Tuiles & Briques / Zi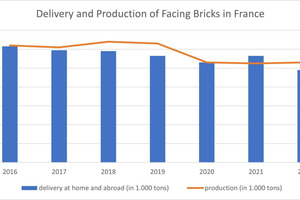 Fédération Française Tuiles & Briques / Zi
» Production and delivery of facing bricks in France 2016 - 2022
Fédération Française Tuiles & Briques / Zi
The years 2021 and 2022 made history for the French brick industry in terms of production levels and deliveries. This is the verdict of the French industry association Fédération Française Tuiles & Briques (FFTB) in its 2022 annual report. After an increase in production in tonnes of bricks of 13.5 percent in 2021 compared to the previous year's level, the industry recorded a further growth of 1.6 percent for all product types in 2022. A total of 4.37 million tonnes of bricks were produced in 2022. Comparable quantitative ratios are shown for roof tiles and masonry bricks. Production of roof tiles increased by 1.6 percent in 2022 (up from 15.9 percent in 2021), while production of masonry bricks increased by 2.6 percent (up from 11.9 percent in 2021).
Shipments are also on a similar trend. Across all product types, 4.4 million tonnes were delivered in 2022. This is a slight decrease of 1.3 percent compared to the 2021 level. In 2021, deliveries had still increased by 13.4 percent compared to the previous year. Roof tile shipments, which had increased by 15 percent in 2021, slowed slightly towards the end of 2022, closing at 2.4 million tonnes, down 1.7 percent. Backing bricks reached 1.9 million tonnes, representing a 1 percent increase in shipments in 2022. In 2021, the increase was 11.9 percent.
High demand for roof tiles
The total brick industry ended 2022 with a turnover of 1.136 billion euros. In 2021 and also in 2022, demand was very strong and much stronger than expected by the market. This particularly concerns demand in the roofing market.
The renovation segment proved to be very dynamic, supported in particular by insulation work, which often entails work on the roof. In addition, many French people invested in renovation work on their primary and secondary residences after the lockdown. Finally, the market for old properties remained very active at least until the beginning of the fourth quarter of 2022. The market for roofing work also benefited from this. Exceptional and dramatic storms created additional urgent demand for roof tiles locally.
Although production lines were running at full speed despite the massive and unprecedented increase in energy prices, inventories are historically low and the supply situation was tight throughout the year. At the end of 2022, the total industry inventory is 1.7 months of supply, compared to almost three months at the end of 2019 before the COVID crisis.