Schlagmann Poroton commissions new raw material processing plant in Ansbach, Germany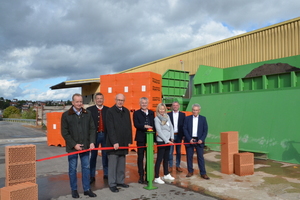 Schlagmann Poroton / Artarco
» Schlagmann Poroton has invested a total of four million euros in the Ansbach brickworks over the last two years. With the symbolic cutting of the red ribbon, the raw material preparation plant was officially put into operation, from left to right: Ansbach's Lord Mayor Thomas Deffner, Division Manager Bricks Heinz Girgner, District President of Central Franconia Dr. Thomas Bauer, Managing Partner Johannes Edmüller, Shareholder Sylvia Schlagmann-Edmüller, Site Manager Markus Reiner, Deputy District Administrator of the Ansbach district Hans Henninger
Schlagmann Poroton / Artarco
The Bavarian brick producer Schlagmann Poroton has invested four million euros in modern and efficient equipment in the Ansbach brickyard over the last two years. To mark the investments made, the company celebrated a party with an open day and used the occasion to commission the recently completed raw material preparation plant. Together with the District President of Middle Franconia, Dr. Thomas Bauer, the Lord Mayor of Ansbach, Thomas Deffner, and the Deputy District Administrator of the Ansbach district, Hans Henninger, the entrepreneurial couple Schlagmann-Edmüller cut the symbolic red ribbon to inaugurate the four-million-euro project.
With the completed expansion of the raw material preparation plant, whose sustainable clay supply is secured in the long term by the neighboring clay quarry, raw material mixtures for the Poroton bricks produced there to meet a wide range of requirements can be produced flexibly and precisely at the Ansbach site. Every month, around 10,000 tons of loam and clay pass through the new plant, where they are processed efficiently and energy-efficiently and provided with the exact ­dosage of additional clays and porosification materials to produce highly insulating clay bricks. This makes the Ansbach clay plant one of the most modern and efficient brickworks in Germany.
The investments made not only have an impact on the quality and sustainability of the products, but also significantly reduce energy consumption and thus CO2
emissions. In order to be able to produce bricks in a climate-neutral manner by 2040 as planned, numerous projects such as this one are being implemented at all Schlagmann locations together with the company's own Brick Research Center in Zeilarn. A first milestone towards this goal is the product group of highly insulating, perlite-filled bricks, which has already been produced in a climate-neutral manner.
 Welcoming the numerous guests of honor, managing partner Johannes Edmüller announced: "The new raw material preparation plant will certainly not be the last investment here in Ansbach. Especially the new challenges of decarbonization, the use of renewable energies and the conservation of resources through a circular economy will require further investments in the coming years to secure the location and the future of construction in Bavaria."
Since 2020, the Ansbach brickworks site with its 35 employees has been part of the medium-sized Schlagmann Poroton GmbH & Co. KG based in Zeilarn, Bavaria. The southern German market leader for masonry bricks operates a total of seven brick plants in five Bavarian administrative districts.