Cleia: new projects in Algeria and France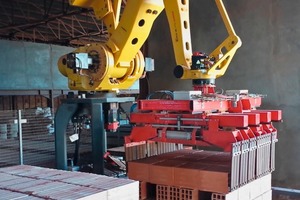 Photos/Fotos: Cleia
»1
In future, a palletizing robot will package the finished bricks at the SBMT2 brick plant owned by the Tedjini Group
Photos/Fotos: Cleia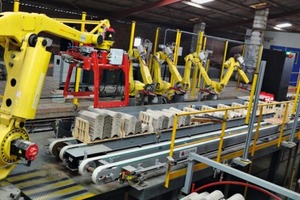 »2
The robot-controlled roofing tile setting station at Tuilerie Lambert will be equipped with an automatic sorting system with visual inspection
Cleia, the French plant ­ engineering company has received the following orders from Algeria and France:
Algeria - SBMT2 brick plant acquires new robotized palletizing
In future, a palletizing robot will package the finished products at the SBMT2 brick plant owned by the Tedjini Group. The robot takes the fired bricks from the exit conveyor and sets them in cross-layers in the format 1200 x 1200 mm. It also sets the bricks in the right position for the forklift to pick them up. Equipped with deflectable fingers, the gripper automatically adjusts the spacing between the bricks to allow the prongs of the forklift to fit into the spaces. This new facility has enabled the customer ­Tedjini to simplify the production circuit and make the production line more reliable with a packaging that meets the requirements of the end-users. Satisfied with this success, the Tedjini Group has confirmed new orders for robotized ­facilities.
France - Modernization of the Tuilerie Lambert plant
Goal of work at the French brickworks Lambert was to increase the capacity and at the same time reduce the physical workload for the operatives.
For six generations, Tuilerie Lambert, located in the Charente region, has manufactured Romanesque roofing tiles and a wide range of high-quality accessories. The new "U" setter handling circuit and robotized roofing tiles setting station will be equipped with an automatic sorting system with visual inspection. With great flexibility of operation, this installation allows the company to manufacture premium products with state-of-the-art facilities.
Delivery of a new kiln for Wienerberger's Achenheim brick plant
Convinced by the capacity and low energy consumption of the kilns engineered by Cleia, Wienerberger has contracted the company with the complete conversion of its old water-sealed kiln into a sand-sealed one. Several proven systems such as the combustion circuits supplied with hot air, the individual fans controlled by speed controllers and the new device with dual exhaust, lead to substantial energy savings. This new Tradisfast kiln will be built entirely with bricks and refractory elements, ensuring optimal corrosion resistance.