Hannover Messe, probably 13 to 17 July 2020
How change becomes growth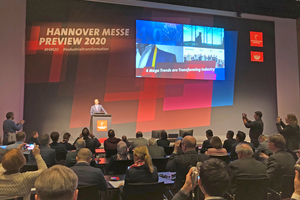 Photos/Fotos: Anett Hümmer
»1
Dr. Jochen Köckler, Chief Executive Officer of Deutsche Messe AG, explains the four megatrends of our time
Photos/Fotos: Anett Hümmer
The manufacturing industry worldwide is grappling with the twin challenges of technological change along with economic and political uncertainty. With its keynote theme of Industrial Transformation, Hannover Messe 2020, taking place from 20 to 24 April 2020 in Hanover, focuses on the opportunities presented by innovative technologies, steadily growing and ever more readily available amounts of data, and a growing awareness of climate protection.
Four megatrends
changing the world
Digitalization, individualization, climate protection, and demographic change are the megatrends of our time. Industry is facing a big design task. The current economic and political climates pose additional challenges that make it difficult to maintain reliable partnerships.
Hannover Messe shows global industry the way forward. Dr. Jochen Köckler, CEO of Deutsche Messe: "At Hannover Messe 2020, some 5 500 exhibiting companies will show how transformation can be positive, and how change can spark growth and progress."
Data: Source of efficiency and prerequisite for machine learning
In today's world, growth is built on data, and thanks to digitalization, the volume of data generated in industrial production processes is growing exponentially. Our ability to extract meaning from these data and turn them into profit is also growing. Köckler is convinced that "the evaluation of data via cloud or edge computing will be introduced into every factory."
Today's industrial technology solutions are interconnected: Machines and systems communicate and share information with each other autonomously, while software takes care of the documentation, monitoring and simulation. This data revolution is driving efficiency and is the prerequisite for machine learning and artificial intelligence.
Köckler: "The exhibition section Digital Ecosystems forms the basis for the interconnection of machines, production plants and intralogistics processes."
5G for industry
This year's Hannover Messe will see the return of the 5G testbed infrastructure. Network equipment providers and users use the testbed to demonstrate the kinds of functionality that the new mobile telephony standard will be able to deliver. Köckler: "The ability to transfer large volumes of data in real time while maintaining high standards of data security is absolutely fundamental to the digital integration of industry." Numerous individual showcases in these halls will be networked via 5G.
The convergence of
production and logistics
Digitalization is already a major driver of change in all areas of intralogistics. This includes automated warehouses, where processes are controlled by software programmes, robots, and where automated guided vehicle systems tour the halls at all hours of the day and night, delivering the right goods and materials in the right quantities to the right place at exactly the right time. Another key aspect is that production and logistics processes are converging and becoming increasingly interconnected, thereby making production more efficient, flexible and cost-effective. This year's Hannover Messe will prominently feature logistics and intralogistics solutions.
Climate protection through innovation: the road to carbon-neutral production
Industrial production is energy-intensive. That is why resource efficiency, energy efficiency, and carbon neutrality have been on the industry agenda for many years.
The climate debate currently taking place in society is helping with this by adding further momentum to the development of sustainable advanced technologies and carbon-neutral business models. Whatever form these technologies and business models take – whether smart solutions for energy, circular economy models or lightweight design – the resulting gains in terms of resource conservation, energy efficiency and process optimization will do more than merely counter climate change; they will be good for business as well. That is why one of the key messages of Hannover Messe 2020 is that climate protection and forward-looking industrial policies are two inseparable sides of the same coin.
Energy in transition: Hydrogen as a motor for industry
Hydrogen and fuel cell technologies span both infrastructure and industrial applications and are steadily gaining ground in the alternative energy mix.
For many years at Hannover Messe, the international "Hydrogen + Fuel Cells Europe" showcase has been a key driver of growth in the hydrogen economy. This year the group exhibit boasts record participation, with more than 200 exhibiting companies from around the world. Visitors gain a comprehensive overview of energy generation and use, transport and mobility, and the interrelationships between the building-systems, manufacturing, transport, and energy sectors.
E-mobility infrastructure and related technologies are also a big topic in Hanover: Exhibitors are showing everything from transportation systems and charging technology to electricity network infrastructure and stationary energy storage technologies.
Young guns: Tech start-ups shaking up the industrial sector
One effect of digitalization is that it empowers small companies to achieve things that were once the preserve of the big players. From the start-up scene come disruptive ideas and technologies that really make a mark. Whether focussing on AI-powered software, virtual reality applications, sensor technologies, smart materials or intelligent energy solutions, more than 250 tech start-ups from all over the world will present their ideas.
Partner Country Indonesia: Taking decisive steps towards Industry 4.0
At a press preview, H.E. Arif Havas Oegroseno, Ambassador of the Republic of Indonesia to the Federal Republic of Germany presented Indonesia as the partner country of Hannover Messe 2020.
With the national strategy "Indonesia 4.0", the country wants to achieve its goal of becoming one of the ten biggest economies in the world by 2030. In the fourth most populous country in the world, 70 % of the 18- to 60-year-old belong to the working population. A rapidly growing digital economy, digital services such as e-commerce, Fintech and growing e-spots are becoming a driving force for Industry 4.0. Indonesia's internet economy, estimated at US$ 40 bill. in 2019, is set to pass the US$130 bill. mark by 2025. According to World Bank data from 2017, Indonesia's manufacturing industry makes up 20.5% of its overall industry.