advertorial / advert
Protect Your Business Against Soaring Energy Costs
Supply shock, fuel shortages and inflation have arrived in Europe. As energy costs skyrocket, businesses must find ways to absorb these added costs. This is particularly true for the brick & tile and ceramics industries where fuel is one of the largest cost components of operations.
To help businesses to reduce production costs caused by record high energy costs, our team at CRESS offers high-performance coating systems from Emisshield® throughout Europe. Developed by NASA, this Space-Certified technology which has been inducted into the Space Technology Hall of Fame in 2021, uses thin ceramic materials which can be applied to several kind of refractories, ceramic fibre and metals to save up to 10% in energy costs, all while reducing carbon emissions.
Our Technology
Emisshield® coatings can handle temperatures as high as 1700°C with an excellent adhesion to the surface and thermal shock resistance. The ability to increase the radiant heat transfer to the colder load by increasing the emissivity factor of the furnace walls from 0,4 up to 0,9 is a key property to achieve energy savings.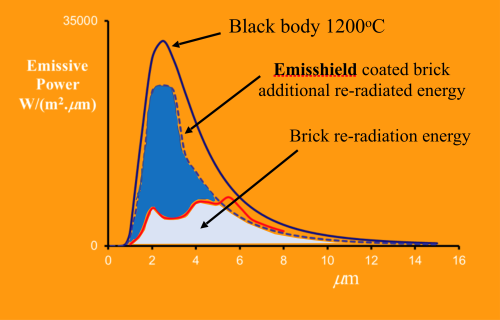 Quelle: Cress BV
Shown by this following equation, the temperature of the coating and the temperature of the kiln load are raised to the fourth power. It is important to understand that EMISSHIELD® absorbs and re-radiates the most energy when the temperature difference between the coating and the load is the greatest.


Quelle: Cress BV
Q = re-radiated energy absorbed by the kiln load
ɛF = emissivity of the coating
σ = Stefan-Boltzmann constant
TC = wall temperature
TL = load temperature
Typical service life of these coatings are about 7 years.

Discover the Full Benefit of Emisshield
Throughout the years, Emisshield coatings have been applied to the full spectrum of heat-dependent businesses. Tests done at the Institut für Ziegelforschung Essen e.V. (Institute of brick and tile research center) in Essen, resulting in a 6% energy savings in a small batch kiln draw attention to brick and tile producers.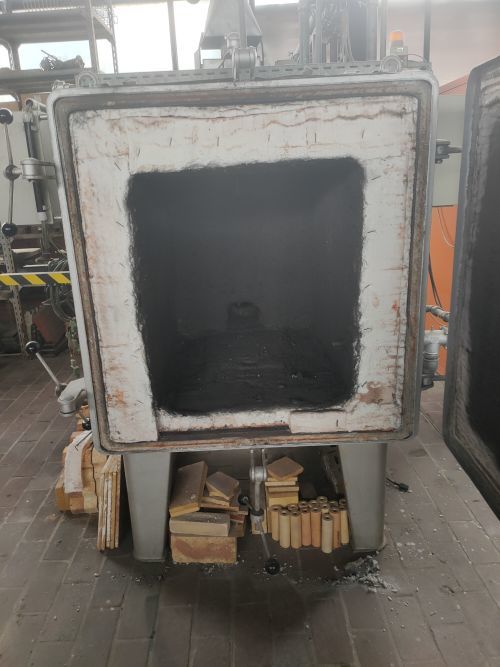 Batch kiln before coating
Foto: Cress BV
Batch kiln before coating
Foto: Cress BV
Understanding that these high emissivity coatings increase the radiant heat transfer to the load an industrial project has been launched at Ziegelwerk Bellenberg in Germany, where about 400m² of side walls and ceiling in the preheat and burner zone of the tunnel kiln were coated in February 2021. After re-balancing the process conditions in the furnace energy savings of about 7,5% have been concluded.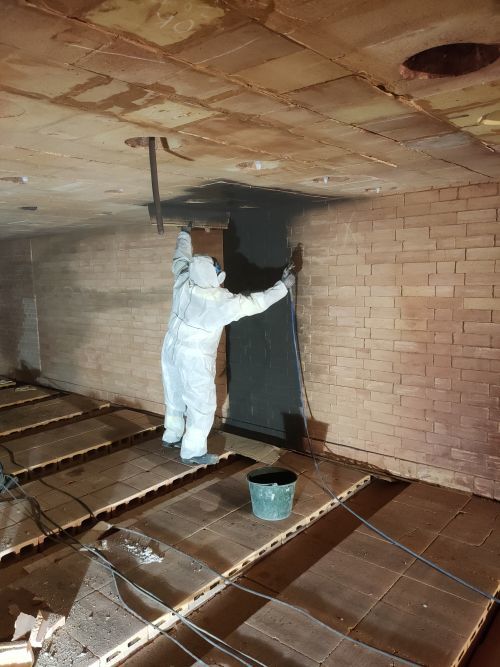 Tunnel kiln at Ziegelwerk Bellenberg
Foto: Cress BV
Tunnel kiln at Ziegelwerk Bellenberg
Foto: Cress BV
Meanwhile several kilns for brick and tile producers have been coated in Europe, thereof kilns at Jakobi Tonwerke in Langenzenn and Bilshausen, Ziegelwerk Klaus Huber in Nossen and at Creaton in Guttau. Some of them not only reported energy savings between 5 and 10% but are also benefitting from improved product quality and production increase due to more equal temperature distribution.
Explore our website for a full look at our technology.

We look forward to hearing from you!
Herbert Gruenbichler
Salesmanager Europe