Criticism of wood construction subsidies in the brick state of Bavaria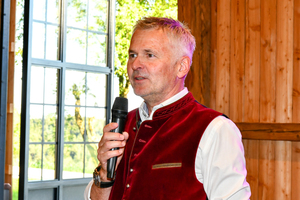 Bayerischer Ziegelindustrie-Verband e. V.
»
Johannes Edmüller, President of the Bavarian Brick and Tile Industry Association (BZV), regards the new Bavarian Wood Promotion Guidelines as state interference in the free competition of building materials that distorts competition
Bayerischer Ziegelindustrie-Verband e. V.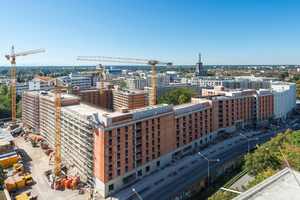 Sven Rahm
»
An example of typical residential construction in Bavaria with load-bearing brick structures. The architects from Baumschlager Hutters Partner lined up ten houses in a perimeter block development in Munich's "Am Südpark" residential district. They created 389 affordable rental apartments, constructed in monolithic, highly insulating brick
Sven Rahm
The move had already been announced for just under a year - then the Bavarian state government put its money where its mouth is. Since June 1, 2022 and until December 31, 2023, a new guideline for the promotion of timber construction has been in effect. Representatives of the brick and mineral building materials industries are now protesting against this measure.
Subsidy for load-bearing timber
The Bavarian timber construction subsidy program is intended to support projects whose load-bearing structures are predominantly made of wood with 500 euros per ton of CO2 stored in the timber, up to a total subsidy amount of 200,000 euros. Eligible projects include new construction, expansion and additions to municipal buildings and multi-story residential buildings. The state has reserved over eight million euros for this in this year's budget.
Bavarian Brick and Tile Industry Association calls for improvements to new funding guidelines
The chairman of the Bavarian Brick and Tile Industry Association, Johannes Edmüller, expressed his disappointment in a press release: "We expressly welcome the state government's funding programs for climate-friendly and socially responsible construction. But this funding program does not do justice to the declared goal of sustainability at all." Instead, all sustainable and particularly durable construction methods should be promoted. Edmüller adds, "Good climate policy needs openness to technology. All sustainable construction methods and building materials must be given equal consideration in the allocation of government funding."
Funding guideline illogical, distorting competition
In particular, the condition that the subsidy only applies to load-bearing structures made of wood is a bone of contention for the association. Johannes Edmüller criticizes: "Politics is now creating framework conditions that do not promote all sustainable construction methods. We brick manufacturers also need wood and wood-based materials in construction, just like bricks. Every building material has its raison d'être." But the new funding guidelines distort the competitive conditions one-sidedly in favor of one building material.
Edmüller makes this clear with an example: "If one i­nstalls today in Bavaria in a brick house a timber roof truss, then this is promoted with zero euro. However, if - after the new building promotion - one mounts the same roof truss on a timber frame house, one can get up to 200,000 euro from the Free State. This is illogical and clearly distorts competition." The same happens with other materials: Wood insulation or OSB in the wooden house receives a subsidy, but does not in the brick house.
Bricks are sustainable
Because of sustainability, builders, construction professionals and investors have long relied on mineral building materials, such as brick. "Over the entire life cycle of a building, they benefit from a very good carbon footprint, health compatibility, low heating and maintenance costs, and a long useful life of 80 years or more," says the association's head. Likewise, the raw material clay and loam is regionally available in practically unlimited quantities. The first bricks made of recycled material have also already been developed in the spirit of the circular economy.
Climate neutrality only with building material neutrality
The association "solid UNIT - The network for innovative solid construction in Bavaria", a federation of eight associations of the construction industry and the building materials industry, also demands in a statement that the state of Bavaria include all buildings made of low-CO2 or CO2-free solid construction materials in its construction subsidies.
 "However, with the one-sided promotion of timber construction methods, Bavaria will not achieve its ambitious goal of being climate-neutral by 2040. Only a building ­material-neutral promotion of all CO2-free or -low building methods brings us closer to this goal. After all, 80 percent of our built environment is and will be built from solid building materials such as concrete and masonry. We must therefore recognize, use and promote the potential of innovative solid building materials for climate protection," said Andreas Demharter, board member of solid UNIT Bavaria, criticizing the one-sided promotion of timber construction.
"Climate Land Bavaria."
The state government's plans to promote timber construction had become public in the course of the past year. Markus Söder, Prime Minister of Bavaria and head of the CSU, had already signaled on Twitter in the direction of timber construction in the spring of 2021. The corresponding program was presented in the government declaration "Klimaland Bayern" on July 21, 2021. Wood was to be given priority in state construction contracts and the annual construction of up to 400 multi-storey wooden houses was to be promoted.
Brick country Bavaria
In Bavaria, bricks play an important role, particularly in residential construction. According to figures from the Bavarian State Office for Statistics, 38,903 of a total of 68,558 building permits in 2021 were issued for apartments in brick construction. This corresponds to a share of nearly 57 percent. This dominance is evident in all residential construction segments. In a total of 3,945 approved residential buildings with three or more residential units, the share of brick construction was around 58 percent. Similar ratios can be observed for one- and two-family houses. Brick construction accounted for more than 55 percent of the building permits issued for 21,338 single-family homes, 11,757. In the two-family house sector, the proportion was as high as almost 60 percent, with 2,685 out of 4,530 residential buildings approved.