250 saws already in use
Reul S25 masonry saw for cutting bricks and walls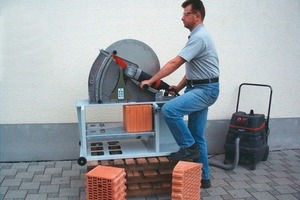 ››2 The main features of the Reul S25 electric masonry saw are its simple operation and low-dust dry cutting process
Reul S25 masonry saws have a cutting depth up to 25 cm. This enables dry sawing of masonry bricks and walls with only one tool. With saw blade and aluminium casing, the Reul S25 weighs around 27 kg, although this weight does not have to be hand-held during the sawing of masonry bricks. The saw is powered by a 230-volt electric motor, which features a soft start and zero-maintenance brake. The special diamond saw blade can be brought to a halt in around four seconds. This is possible thanks to a high-quality electric motor from the Stuttgart-based company Fein with special "Made in Germany" gears. Three construction companies have already bought a second saw, thereby testifying to its quality. Since summer 2004, Reul Sägetechnik GmbH has manufactured the masonry saw with a new casing cast from light metal. For this new invention, the company was awarded a German patent and then in autumn 2006 a European patent too.
Masonry bricks such as clay bricks, limestone bricks and pumice can be machined on a saw bench. The sawing process is similar to that with a mitre saw. A two-wheeled saw bench weighs around 33 kg. Consequently, one person can quickly move the sawing unit from one place to another on a construction site, avoiding long walking distances for sawing masonry bricks. All common brick sizes that can be laid by hand, including high-precision masonry units, can be sawn with the tool. Bevel cuts are also possible. With the T37 sawing bench, it is possible to effect gable cuts
on clay bricks and pumice stone for 36.5-cm and
38-cm wall thicknesses. In practice masonry bricks are often sawn in a dry process without dust extraction because a large part of the dust is collected in the integrated catch container of the sawing bench. By tilting and gentle shaking of the sawing bench after sawing is complete, any remaining dust falls out and can be easily disposed of. Laborious cleaning of the sawing bench is therefore unnecessary. From talks with customers, Reul found out that around
12 detached houses can be brick-built with one saw blade.
The saw can also be used for vibration-free dry cutting of door and window openings in masonry with precision-cut edges. For this purpose, a wall rail with carriage is mounted to the wall. This is fixed to the wall with conventional universal plastic wall plugs. Complete with carriage, the 2.25-m-long wall rail weighs around 23 kg. It can be divided up into lengths of 0.75 m and 1.50 m for easier transport. Of course, it can also be lengthened. With conventional vacuum cleaners, sawing can be performed in rooms without substantial dust generation. For example, around 45 door openings can be cut in solid-built walls (e.g. for barracks conversions).
The simple operation of the Reul S25 electric masonry saw and the low-dust dry sawing process as well as the additional combination of brick and wall saw are unique. No three-phase AC current or water is necessary. A 230-volt connection is sufficient.