Ceric Technologies – renewal through continuity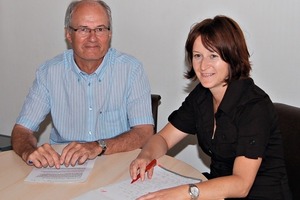 »
Patrick Hebrard, President Ceric Technologies, and Anett Fischer, Zi Ziegelindustrie International
Following reorganization proceedings, on 26 March 2010 the Commercial Court in Paris approved the transfer of the assets of the companies Ceric, Hallumeca, Pelerin and main part of EquipCeramic company shares to "Ceric Nouvelle", a project initiated by Patrick ­Hebrard and Laurent Toquet. One of the main shareholders in the Ceric Technologies is the company "Pléiade Investissement". We spoke to Patrick Hebrard, CEO at Ceric Technologies, about the future prospects and projects for Ceric while the company is celebrating its 50th anniversary.

Zi: Ceric Technologies has been starting up for some months now. How has the new company fared? With how many employees are you starting and what turnover are you targeting? And, do the figures compare to the predecessor companies?
P. H.: The last few months have been very eventful for us. Following the Commercial Court ruling, our primary objective was to reorganize business with our customers and complete a number of projects. In addition, we have moved to our new business premises in Paris in Rue de Hauteville 60/62. Here are the headquarters and the management base, as well as the engineering department, project management, sales, organization and the service department. And Ceric Technologies operates at the following sites:
› in Soissons, near Paris, where clay preparation and shaping are based, here we manufacture size reduction equipment, extruders and storage systems. We also concentrate our spare parts service at this location
› in Villeneuve d'Ascq, near Lille where we have our thermics centre, department dedicated to dryer and kiln
› in Dijon where the software and control systems are based
Ceric Technologies on its own now employs a total of 83 people, including 100% of the Process department team we employed before the crisis. Besides, EquipCeramic has 90 employees. In comparison, around four to five years ago, with around 1000 employees, the former Ceric France generated total sales of € 200 mill., the clay brick and tile industry accounting for around € 100 mill. For this year we are planning € 20 mill. and aiming at € 40 mill. in turnover for 2012, taking into account a slow recovery of the market.
Zi: The safeguard proceedings of Keyria and reorganization proceedings of its French subsidiaries also hit the traditional company of Ceric. How far do the historic founders of Ceric, Michel Rasse and Jean Mérienne, support you in your venture to "save" Ceric what is, after all, their life's work?
P. H.: Both were very affected by the negative development, after all Ceric has been in existence since 1960, and this year, we are celebrating our 50th anniversary. Messrs Rasse and Mérienne were committed to the new start. Then unfortunately Michel Rasse died at the end of March this year, before the Commercial Court granted its approval. His son holds his promise that he would invest in Ceric Technologies and the two of them, he and Jean Mérienne, have taken a financial share in the new company. Jean Mérienne is also on the company's Supervisory Board and is therefore very close to the development of Ceric Technologies. And we, the managers, are part of the group of investors too. Our employees have a stake in the success of the company through a profit-sharing scheme.
Zi: Keyria's subsidiaries had to cope with a large number of order cancellations at the end of 2008 and a severe decline in their business since the beginning of 2009. In the end, Keyria with its French subsidiaries had to file for safeguard proceedings and deeply reorganized itself with consequences we know. What makes you so certain that you will be more successful with the new company? The order situation has not improved or has it? On what orders are you working at present and how do see the prospects for your company for the rest of 2010 and the forthcoming year 2011?
P. H.: As I said earlier, we are much smaller with Ceric Technologies today than the former Ceric France; that means our sales targets are also much lower as well as our fixed costs. Naturally, competition today is still very fierce and the sales market in many regions has stagnated and even shrunk in places. In Europe things are not going well at the moment, typical clay brick countries such as Spain, Italy, and Great Britain are producing far less than a few years ago and a quick improvement is not in sight.
But despite that, we reckon with good opportunities for our newly set-up company. Countries in Southeast Europe and Russia too as well as Iran, Iraq and Syria have a pushing ahead the use of clay bricks. In most of these last countries, plants configuration and design are not the same as the plants built in Western Europe for example. Customers there focused on the production of one or two products; they do not need plants that are able to produce a lot of different building materials. This is considerably reducing the complexity of the plants, even if most of them take advantage of automated handling and conveying systems. The capacities, with around 500 t/day, are lower than we are used to compare with the big new plants in Europe, but there is a real potential for Ceric who developed a dedicated offer for these countries. And there is potential in South America too, where there are several traditional brickmaking countries such as Brazil, Argentina and Venezuela. We are working, for example, on a project in Peru. You can see that Ceric Technologies is finding things to do.
Zi: "Ceric Technologies" has set itself the aim of becoming market leader as an engineering company and supplier of turn-key plant solutions to the heavy clay building materials industry. In addition, you plan to consolidate your presence and services on the international markets in which you have always operated, ensuring a continuous level of service to your historical customers. How exactly do you plan to achieve these aims?
P. H.: Our sales team today is naturally smaller than Ceric's used to be and to start with, we have to concentrate our efforts. Ceric Technologies has an organization for the CIS states and Russia, with a base in Moscow. A second organization takes care of Europe and a third looks after the Middle East. And we also developed a network of agents who will help us to reinforce our international presence. But we have closed our sales office in China for the time being.
Zi: In the USA, Ceric used to operate through Ceric Inc. The former manager responsible for Ceric Inc., Christophe Aubertot, has set up his own company Direxa Engineering LLC. Will Ceric Technologies continue to work the American market and how?
P. H.: At present, we are not actively operating on the North American market, from which, after all, the crisis originated. And how would we anyway? Many plants are at a standstill, production has declined sharply. We will see how things develop. The precondition is first that the US American market recovers and building is on the up again.
Zi: You are main shareholder in your Spanish subsidiary Equipceramic. Are there not any overlaps in your product ranges and consequently competition within your group?
P. H.: Now, between the founder families of Equipceramic and Ceric, there was a historic agreement. The owners of Equipceramic are aiming to become independent and we will see how things go in the future. The two companies are operating on the same market, but with different technologies, so that there tend to be few overlaps. Equipceramic manufactures conventional dryers and kilns, whereas we are active in drying with our fast Anjou dryer, and casing kiln.
Zi: One of the main shareholders of the new group is the company Pléiade Investissement. What makes the company different from your former owner, the Legris Group?
P. H.: Certainly, the main difference is that the Legris Group tried to change the company culture and had brought in some of its own managers. On the other hand "Pléiade Investissement" is purely an investor, who does not interfere in the operative business. "Pléiade Investissement" is a group of wealthy shareholders, who want to profitably invest their money long-term and are not just out for a fast return. In the management, we are relying on very experienced Ceric people, and on their know-how especially in the clay brick and tile sector. Just let me give you two figures that speak for themselves. The former Ceric was led by a seven-man management team, with Keyria there were 45 managers!
Zi: Ceric has done some pioneering work in many sectors, for example, the first U-setters were introduced by Ceric and Ceric built the first H-setter kiln in France. Which innovations can you see being developed in the near future for the clay brick and tile industry, which not only has to stand its ground in a fiercely contested building materials market, but has to meet ever stricter requirements for lower energy consumption and consequently lower CO2 emissions?
P. H.: With regard to "thermal insulation and energy saving", we have got ideas – we just do not have the building materials products to match yet. You have to remember that all the world is not on one level. While brickmakers in parts of Europe are constantly developing new products for better heat insulation, in other parts of the world, this subject finds almost no interest. There are already differences between neighbours, if we take a look at Germany and France, for example… In Germany architects build with large-size bricks with special perforation patterns, here in France smaller bricks with facade insulation based on a sandwich principle are used. We'll see which system turns out to be the right one. The idea of filled bricks like those becoming increasingly common in building in Germany is something we find very interesting too. With regard to CO2 emission at the building material production step, we are developing energy alternatives (wood, biomass…) and creating innovating solution to decrease dryer and kiln energy consumption.
Zi: Mr Hebrard, we wish you and the new Ceric Technologies every success for the future.
The interview was conducted by Zi editor Anett Fischer.