Röben Tonbaustoffe GmbH
New plant in Texas starts operation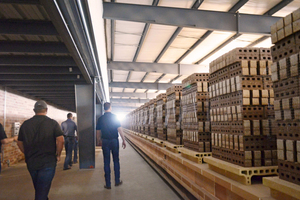 Photos/Fotos: Triangle Brick
»1
At the Clay County plant, around 100 mill. clay bricks in the American "modular size" can be produced annually
Photos/Fotos: Triangle Brick
Röben's Managing Director Wilhelm-Renke Röben said at the inauguration ceremony of the newest plant for the Röben Group's subsidiary Triangle Brick Company: "The building of this new plant in Texas re-presents another milestone in our company history".
At the end of May, more than 300 guests celebrated the "Grand Opening" in Henrietta in the US state of Texas. "Clay County is not only the most modern and biggest plant in our company, but also the most flexible", continued Röben. Scott Mollenkopf, CEO of Triangle Brick Company, sees the current expansion as an example of cross-generational planning at Röben and the associated desire to diversify the company for the future.
Already at the end of November 2015, after just one year of building work, the first bricks were pressed and set. Now sale of the products has begun according to plan. In the new plant, around 100 mill. bricks in the American "Modular Size" can be produced annually.
In total, in the new plant, including production and sales, around 45 people are employed. Texas is a lucrative market for the clay brick and tile industry. Around 50 % of the houses here have a brick façade. From Henrietta, around 150 kilometres northwest of Dallas, the bricks are not only to be sold in Texas, but also in Oklahoma, Louisiana and Arkansas.
America has been a familiar market for Röben for many years. The American company Triangle Brick Co. has been part of the Röben Group for 37 years. In 1979, Röben took over the company in Durham, North Carolina. With four plants in North Carolina, Triangle Brick is one of the biggest brick manufacturers on the East Coast.
"The Clay County Brickworks is opening up new opportunities in the markets in the southwest of the USA", said Röben's Managing Director Wilhelm-Renke Röben, explaining the decision to build another plant. "The know-how that we have amassed over decades on the American market and the trend toward to more sustainability in building in the USA too have contributed to this step."
Röben Tonbaustoffe GmbH
www.roeben.com