Recycling: a challenge for the brick and tile industry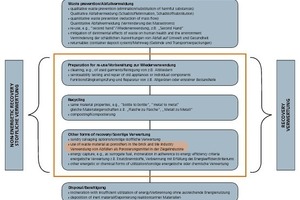 »1
Graphic representation of the waste hierarchy according to Austria's Foreign Trade & Payments Law as amended in 2010
(see also the pertinent commentary EBRV 1005 BlgNR XXIV. GP 10)
Resource efficiency, recycling, closed material cycles – the brick and tile industry will be facing all these new challenges in the years to come. This contribution investigates the relevant regulatory framework, surveys the pertinent ongoing research activities, and provides information on the prerequisites for successful recycling in the brick and tile industry.
1 Introduction
Over the past few months, the European institutions have published a spate of documents concerning this topic, most notably "The Roadmap to a Resource Efficient Europe", in which it is stated, inter alia, that "By 2020 the renovation and construction of buildings and infrastructure will be made to high resource efficiency levels. 70% of non-hazardous construction and demolition waste will be recycled".
While there are a number of traditional applications for heavy clay construction and demolition waste – for example as aggregate for the production of lightweight concrete or as...