Germany's brick and tile industry: Still on the upswing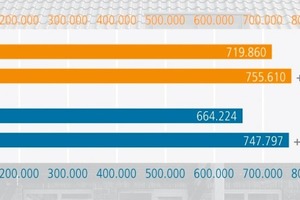 Source: Federal Statistical Office, WiesbadenQuelle: Statistisches Bundesamt Wiesbaden
Source: Federal Statistical Office, WiesbadenQuelle: Statistisches Bundesamt Wiesbaden
Germany's brickmakers enjoyed a continuing upward trend during the 2011 business year, in the course of which the brick and tile industry's production data ­improved by roughly 15%. In fact, the situation is even better than what the data say: due to strong demand, stock inventories have been reduced, so the full actual turnover was probably somewhat higher than ­stated.
1 Roof tiles

The roof tile manufacturers boast the best balance for the year 2011. Their sales figures nearly rivaled the records they set in the late 1990s and early 2000s. One of the main reasons for these good results was the fact that the roof tile producers were able to draw profit from widespread renovation activities triggered by the government's policy of promoting the insulation of building envelopes. Another is that the branch has been successful in continually taking market share from the competition, meaning in particular concrete roof tiles.
According to figures released by the...