30 years of plant engineering for the clay brick and tile ­industry worldwide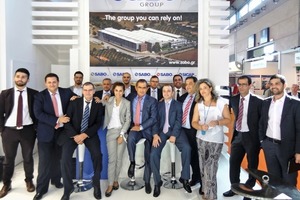 »2 The Sabo team at Tecnargilla: Yanis Gurovanov, Dimitrios Birbakos, Paraskevas Ntalidis, Matina Kiliari, Dimitrios Kiliaris, George Koukas, Markos Senounta, Matina Pilati, Leonidas Karatzas, Cleber Rafael (front row from left to right)
Danilo Lins, Mikele Fornabaio, Ruggero Fornabaio, Harris Makrigiannis, Mehran Rezaei (back row from left to right)
Sabo S.A., the Greek plant engineering company, has really stepped up its international activities in recent years. Sabo S.A. supplies machines and equipment for the heavy clay industry as well as turn-key plants for the clay brick and tile industry. At Tecnargilla in Rimini, we talked to Managing Director Dimitris Kiliaris, who has headed the company for 30 years, about Sabo's development and its prospects for the future.
Sabo S.A. is the oldest part of the Sabo Group, which also includes Sabo Filiere, Sicap and Sabo Electric. How closely do these companies work with each other?
D. K.: Each company has an independent management team, commercial team and production in separate facilities. Of course, we have achieved some synergies between the companies, but basically we can say that each company can completely support its own operations. For example, Sabo Electric supplies switch cabinets to Sabo S.A., but Sabo S.A. also has alternative suppliers. On the other hand, Sabo S.A. accounts for just 20% of Sabo...