Acquisition Ziegelwerk Schmid and Ziegelwerk Wenzel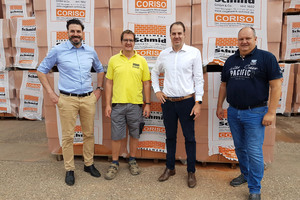 Photo/Foto: tdx/Hörl+Hartmann Ziegeltechnik
»
Management of Schmid brick company: Matthias Hörl, Karl Thomas Schmid, Michael Hörl, Martin Schmid (left to right)
Photo/Foto: tdx/Hörl+Hartmann Ziegeltechnik
Hörl+Hartmann, a brick company based in Dachau, has taken over Ziegelwerk Schmid GmbH & Co (Bönnigheim). Ziegelwerk Schmid, a family-owned brickworks since 1602, is the oldest owner-run brick plant in Germany. The current market changes in the industry, like, for example, the process of concentration and digitalization are calling for supra-regional and larger company configurations. Therefore the Schmid family has decided to tackle these challenges together with Hörl+Hartmann.
With retroactive effect from 1 January 2021, Hörl+Hartmann has also taken over Klinker- und Ziegelwerk Franz Wenzel GmbH & Co. KG, a brick company in Hainburg-Hainstatt. With these two takeovers, the largest family-led brick manufacturer in Germany, as the company describes itself, is expanding its sales area both in the German state of Baden-Württemberg and metropolitan region around Stuttgart and in the German state of Hesse with metropolitan area of Rhine-Main-Frankfurt. All employees of the two plants have been kept on with a job guarantee. Moreover, extensive investments have been announced.
"Strong brands, ideally positioned in the regions"
"The two brick plants are a perfect fit for us," says Michael Hörl, Managing Partner. "We have a similar product philosophy, we have strong brands and are ideally positioned in the regions." With the takeover, enormous potential for the future has been opened up. Besides existing and new premium products, synergies in marketing and sales will be used to safeguard long-term economic success at all production bases. Matthias Hörl: "Clay bricks not only have a great tradition, but are also optimally equipped for the future, especially in view of the challenges of climate change and the current market turbulence for some building materials, like timber, for instance."
Along with Karl Thomas and Martin Schmid, who will continue working as managing directors at Ziegelwerk Schmid, Michael and Matthias Hörl will join the management. The situation is similar at the Wenzel brick plant. Michael and Matthias Hörl will join the management to work with Dipl.-Ing. Rudolf Bax, who will continue as managing director at the company.
The brothers Karl Thomas und Martin Schmid are like Rudolf Bax delighted that "All employees will be kept on with a job guarantee. So nothing will change for our customers and business partners. They will in the future, too, be able to shape the market with their accustomed contact persons."