Strategic partnership
Hörl & Hartmann acquires half interest in Ziegelwerk Ott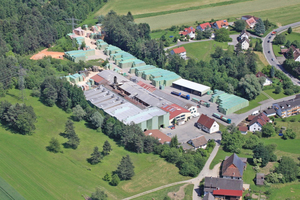 Photo/Foto: Ziegelwerk Ott
»
Aerial view of the Ziegelwerk Ott brickworks
Photo/Foto: Ziegelwerk Ott
Effective July 1, Hörl & Hartmann Ziegeltechnik GmbH & Co. KG has acquired a total 50% share of Ziegelwerk Ott brickworks in Deisendorf.
The holding owners, Dipl.-Ing. Tristan Klein and Dipl.-Ing. Kai Rudhof, are focusing their efforts on the future-oriented modernization of brick production at the Deisendorf plant. Simultaneously, Hörl & Hartmann is also taking over the entire sales and distribution scope for the deeply traditioned building material manufacturer on Lake Constance. Both companies are planning to invest heavily in the Deisendorf production facility. "In the medium term", says Kai Rudhof, "we intend to create a highly modern location, including new buildings and innovative plant engineering."
The Hörl & Hartmann brickworks, with headquarters in Dachau, has approximately 200 employees and sells some 300 million standard-size units a year. EPIC Holding GmbH is active via subsidiaries not only in brick production, but also in research and development (glass, ceramics, plastics) and in the real estate and civil engineering sectors. The company has a staff of close to 50.
Against that backdrop, the supra-regional distribution of clay masonry units is planned to be concentrated. In 2020, the brick factory in Deisendorf will be coming out with additional top-segment building materials, all under a uniform heading, i.e., the brand name "Ott" will be uniformly replaced by "Hörl & Hartmann". A preparatory name change, from "Ziegelwerk Ott" to "Ziegelwerk Deisendorf GmbH" has been submitted for entry in the commercial register.
In the period of time since the Ott family enterprise was transferred to EPIC Holding – that is, to engineers Rudhof and Klein, both of whom have been with the company for over a decade – the plant's physical turnover has more than doubled. That positive trend is due in part to a consistent focus on modern, highly insulative clay masonry products, the kind that has always distinguished Ziegelwerk Ott. Hörl & Hartmann, with five plants in southern Germany, together with the brickworks in Deisendorf, is now poised to expand their sales volume and technical construction consulting in Baden-Württemberg while adding some important supplements to the product range, e.g., for multi-storey residential construction in urban agglomerations.
All this boils down to high-level job security for the employees. In fact, considering the investments being made, noticeably more skilled workers will be needed in the medium term.