Clay panels promote sustainable building and climate protection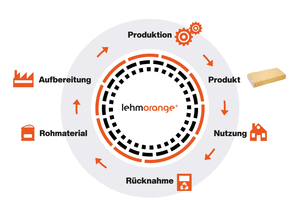 © Lehmorange
»
Clay panels comply with the circular economy system because they can be fully recycled after deconstruction.
© Lehmorange
Shortages of raw materials, rising material costs and debates about sustainable buildings dominate the German construction industry. More than ever, building materials of various types and origins are currently being put to the test and evaluated in terms of their sustainable life cycle and future viability. Clay panels are made of the natural material clay, a raw material that is available regionally and in large quantities in Germany today and will continue to be available in the future. In addition, clay panels comply with the circular economy system because they can be completely recycled after deconstruction, according to a statement by Lehmorange.
Natural and available in the long term
Made from natural materials such as clay and sand, clay panels are considered a sustainable drywall element for the entire interior construction, from roof insulation to interior wall renovation of old buildings, according to Lehmorange. The boards convince with their good building-physical properties such as high sound and heat insulation. In addition, they are free of harmful substances, non-combustible and effectively prevent the formation of mould. Another advantage: investors and architects can plan for the long term with clay as a building material. It can be quarried in Germany in large and high-quality quantities, not only today but also in the future. At the same time, this regional availability has a positive effect on the CO2 balance of the building material, because long transport routes are no longer necessary.
Sustainable cycle
Clay panels are manufactured completely automatically and with a low energy input. In the event of dismantling, even larger panel units can be disposed of cost-effectively and without great expense, as they are not hazardous waste. Thomas Bader, Managing Director of Ziegelwerke Leipfinger-Bader, to which Lehmorange belongs, says: "Clay is reversible and can be reused as often as desired without losing its properties. Instead of disposing of the slabs, for example, they can also be shredded and processed into clay powder. A product for which there are again many possible uses."