Raw material instead of building rubble
Wienerberger's Kirchkimmen brick plant firing clay for new building project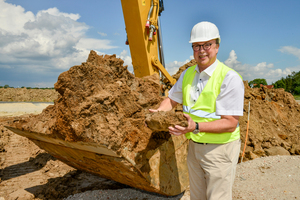 Photos/Fotos: Wienerberger
» "Simply disposing of the actually valuable material as part of earth removal was out of the question for us", says Uwe Schierloh, Managing Director at PGW
Photos/Fotos: Wienerberger
In Werdersee Garden City, one of the most extensive construction projects in Bremen, Germany, the property developers PGW (Projektgesellschaft Gartenstadt Werdersee) and GEWOBA are pursuing an integrated sustainability concept. KfW-Standard 55, forward-looking options for mobility and independent energy supply guarantee environmentally friendly homes and living in this new residential estate with its 590 houses and flats under construction.

Raw material from the foundation pit

When large volumes of clay were exposed on the construction site, Uwe Schierloh, Managing Director of PGW, created together with the clay building materials producer Wienerberger a sustainable win-win situation: The extracted clay is returned to the site in the form of fired bricks. "Simply disposing of the actually valuable material as part of earth removal was out of the question for us," says Uwe Schierloh. "That couldn't be reconciled with the sustainability concept of the Garden City. And so, we simply focussed on the clay's strengths: In the foundations, the clay isn't in the right place. It isn't suitable as building ground as it doesn't provide the necessary stability. As a resource for the facades of the residential homes built here, on the other hand, it is ideal."

Clay in a sustainable cycle

Wienerberger's Kirchkimmen brick plant is located just under 35 kilometres away. Here the 40 000 t extracted clay is fired to facing bricks and brick slips. After production, the clay finds its way back to its place of origin and is used in the facades of the Garden City. These form a durable building envelope made of pure natural material. The clay forms living space on the land from which it comes. This closes the sustainable cycle of far-sighted resource extraction, short transportation routes, regional use and long refurbishment cycles.
What can't be used in Kirchkimmen is used by the Bremer Deichverband (Bremen's Dyke Association) for drainage projects.

Wienerberger GmbH
www.wienerberger.de