Interview with Dr. rer. nat. Lutz Krakow, Dr. Krakow Rohstoffe GmbH, Göttingen
From mineral waste to clay potential – raw materials
for the clay brick and roofing tile industry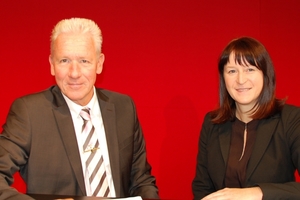 Photos/Fotos: Krakow
»
Dr. Lutz Krakow informs Zi Editor Anett Fischer about clay potential in Germany
Photos/Fotos: Krakow
Over the past few years, Zi Brick and Tile Industry International has taken an in-depth look at the use of mineral waste in the composition of clay brick and tile bodies. In 2016, together with Dr Lutz Krakow, we are starting a new series of articles on clay potential in Germany. We spoke to Dr. Lutz Krakow about the findings gained regarding the use of waste materials and give an outlook on the new series.
Zi Brick and Tile Industry International has reported on mineral waste and the possibilities for its application in the clay brick and roofing tile industry in twelve articles from issue Zi 1-2/2012 to Zi 4/2015. Have we now covered the most important types of waste or would it be possible to go on and on?
We have addressed the most important types of mineral waste from the non-metallic minerals industry in Germany with reference to examples. The series was deliberately structured such that all key waste paths from extraction, mineral washing, to dry processing were covered with reference to a...