Stadt und Planung – A reader with texts from 100 years of urban development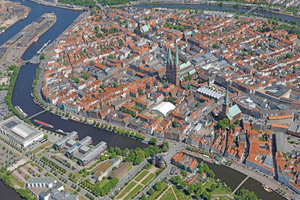 © Philipp Meuser
»
"Only where nature itself offered no alternatives, these cities have grown into the form that had been pegged out from the start. Lübeck is one such example."
© Philipp Meuser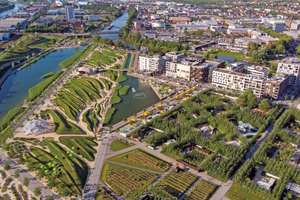 © Jürgen Häffner
»
The city as a garden on the site of the former freight depot. BUGA 2019 in Heilbronn.
© Jürgen Häffner
The German-language reader comprises over 40 texts on urban development from the past 100 years. For this book on the basic principles of urban planning and development, members of the Deutsche Akademie für Städtebau und Landesplanung (DASL – German Academy for Urban Development and Regional Planning) selected and commented on texts to which they attribute particular importance for their technical understanding or their professional work. The occasion for the compilation of the texts is DASL's 100th anniversary.
The selection is not intended as a reading canon, instead the format opens up a colourful kaleidoscope of different texts, including extracts from classic texts, rediscovered academic essays, powerful talks and influential manifestos, but newspaper articles, travel reports and poems, too. The spectrum of authors ranges from Cornelius Gurlitt (DASL's first president) through Rudolf Hillebrecht to Thomas Sieverts, from Walter Benjamin through Jane Jacobs to Erika Spiegel. The focuses are as diverse as the disciplines represented in the academy: not only urban and regional planning, but also architecture, landscape architecture, traffic planning, construction and planning regulations, urban sociology and urban economics. In addition to these come texts from other academic disciplines such as philosophy and ecology, which with their perspectives from outside have always enriched the debates on practice and theory in urban development. Just as varied as the texts are the motives and reasons for the selection. In their entirety, they reflect the Academy's stance on issues over time and technical conventions, indirectly depicting the history of the DASL.
In 2022, the DASL will mark one hundred years since its establishment and is taking this opportunity to reappraise its eventful history. The book presented here is a part of this reappraisal. Work is currently underway on a two-volume work on the history and theory of urban development in Germany: Volume 1 entitled Ordnung und Gestalt (Order and Form 1922 – 1975) has already been published, volume 2 on Positionen und Perspektiven (Positions and Perspectives 1975 to the present day) will round off the three DASL publications marking the anniversary year 2022.