Dipl.-Ing. Anett Hümmer
Supplier industry plays its part in Zi Student Excursion 2019
For the 6th Zi Student Excursion on 22 and 23 October 2019, we headed to Germany's Westerwald region. Eight industry partners – a new record – informed about 40 students and their supervisors from three universities about their companies and presented current industry topics. The brick plant in Bannberscheid owned by Röben Tonbaustoffe GmbH was the destination for our plant tour. Here, the students were given an insight into clay brick and modern brick slip production.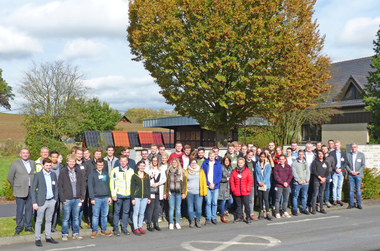 Photos/Fotos: Jens Maurus, Anett Hümmer
»1
The participants of the Zi Student Excursion at the Röben Group's Bannberscheid plant
Photos/Fotos: Jens Maurus, Anett Hümmer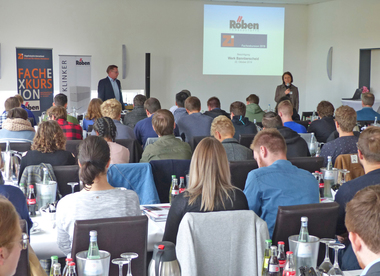 »2
Ralf Borrmann and Anett Hümmer welcomed about 40 students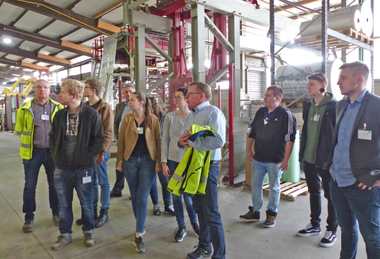 »3 a, b and c
The tour was guided through the brick and brick slip plant in small groups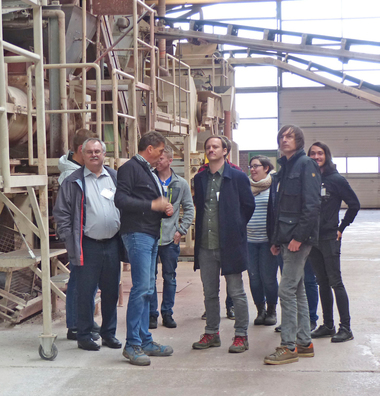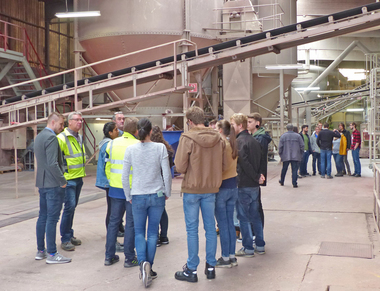 »4
In eight talks and company presentations the industrial partners introduced themselves to the students as tomorrow's employers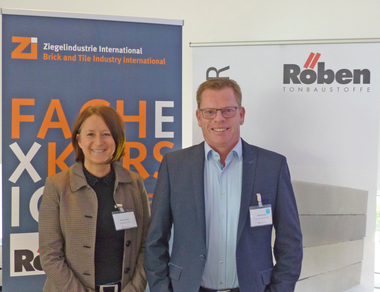 »5
Zi Editor Anett Hümmer (left) thanked Ralf Borrmann for the excellent support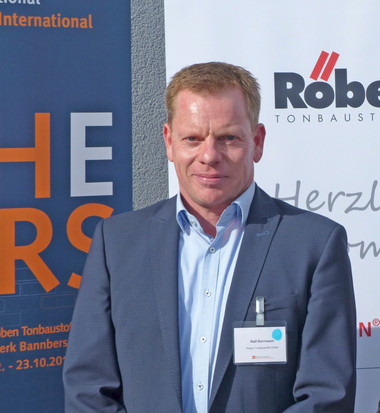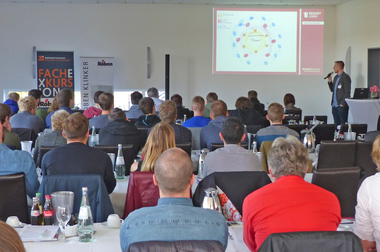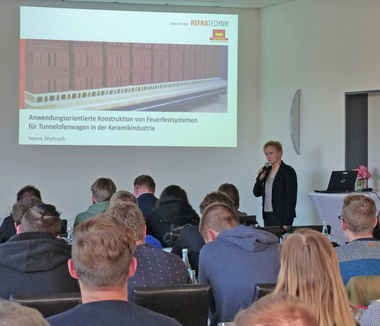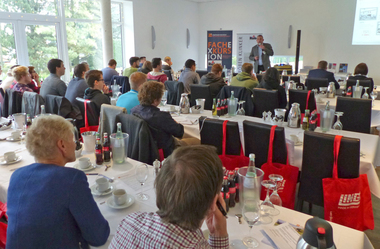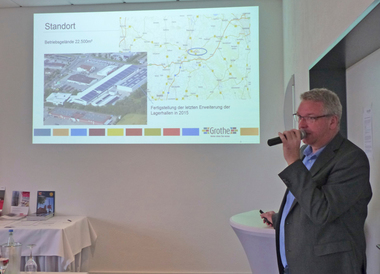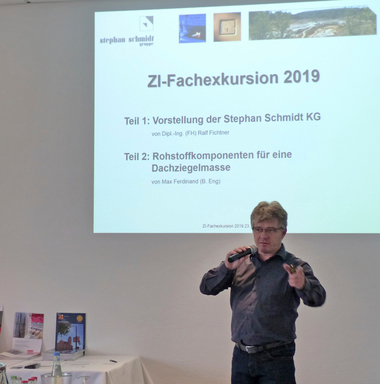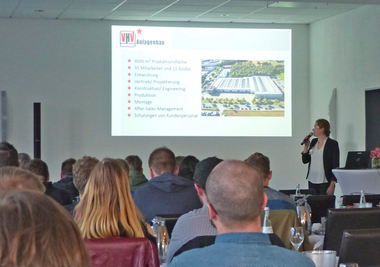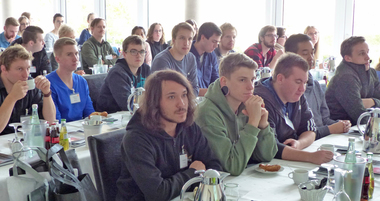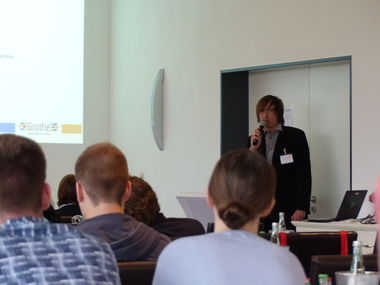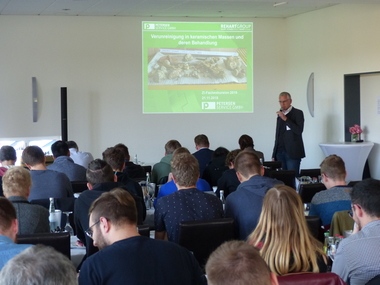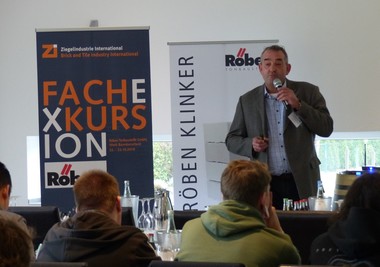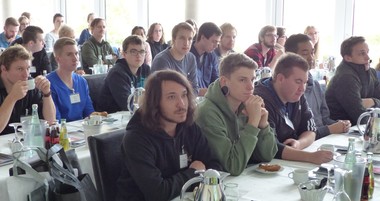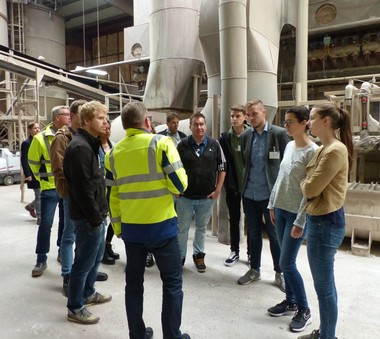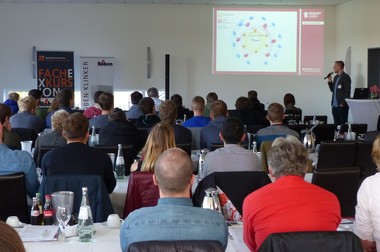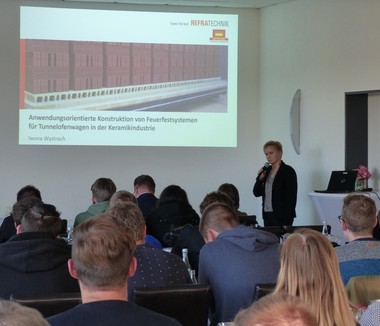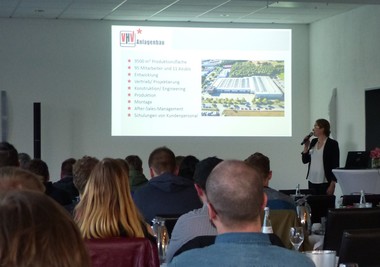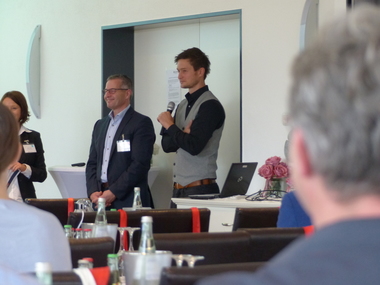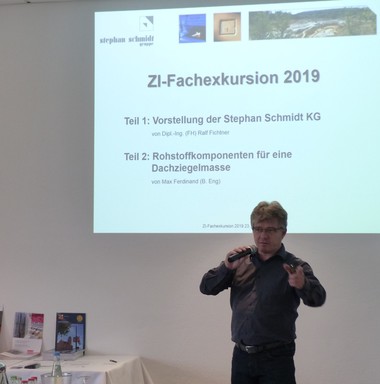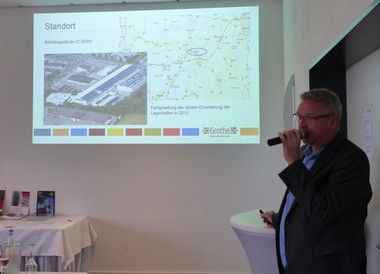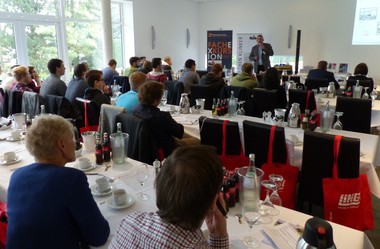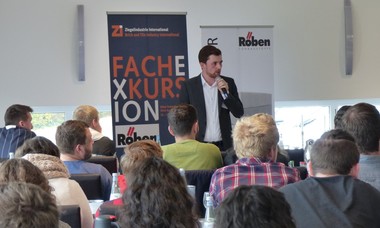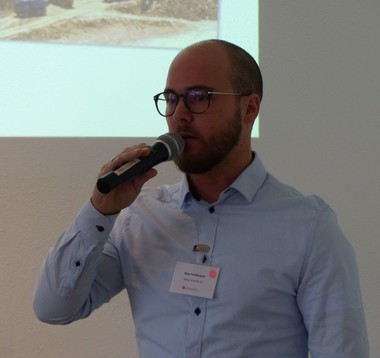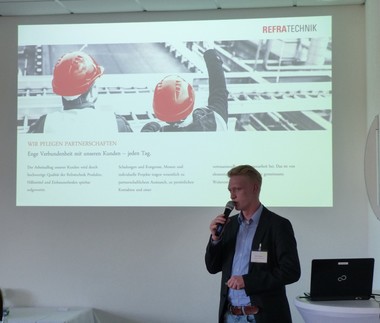 For our student excursion in 2019, we visited the brick plant in Bannberscheid, which is owned by Röben Tonbaustoffe GmbH, one of the largest family-run medium-sized companies in Germany.
With this excursion, which combines specialist talks and a tour of the plant, we want to inspire future university graduates in the fields of process engineering/materials/ceramics to go into the clay brick industry and its supplier sector.
On 22 and 23 October, students under the direction of Prof. Dr.-Ing. Christian Schäffer (Koblenz University of Applied Sciences, Materials Engineering Glass and Ceramics, Höhr-Grenz-hausen) and Prof. Dr. W. Krcmar (Georg Simon Ohm University of Technology in Nuremberg) met our industrial partners to find out about career opportunities in the clay brick and tile industry as well as with its suppliers. New participants this year were students from the Georesources and Process Engineering departments at the Georg Agricola Universities of Applied Sciences in Bochum, with their supervisor Annemarie Görner.
Eight industry partners – more than ever before – took part in the event to get the next generation of professionals interested in our industry:
Grothe Rohstoffe GmbH & Co. KG
Händle GmbH Maschinen und Anlagenbau
Keller HCW GmbH
Hans Lingl Anlagenbau und Verfahrenstechnik GmbH & Co. KG
Rehart Group with Petersen Service GmbH/Rehart GmbH
Refratechnik Ceramics GmbH
Stephan Schmidt KG
VHV Anlagenbau GmbH
It is thanks to the commitment of these companies that students in the higher semesters get to talk to potential employers already during their studies. This gives the participating companies the opportunity to interest future graduates in their company at an early stage. During the excursion, the students receive technical information in a talk as well as an overview of the company and the career opportunities available.
As the subject of young professionals is also important for Röben Tonbaustoffe GmbH, Röben Managing Director Wilhelm-Renke Röben was pleased to invite us to the Bannberscheid plant. Our thanks go to him and Ralf Borrmann, Technical Director at Röben, for their excellent support, as well as to the Bannberscheid team, who treated us an interesting and very well-organized tour of the plant.
Plant tour
After the welcoming address by Zi Editor Anett Hümmer, Ralf Borrmann and his team were delighted to present the innovative brick and brick slip plant to the future professionals.
Built in 1970, the plant was modernized in 2008. Today, 70 employees produce approx. 18 mill. NF bricks and 20 mill. brick slips annually in a 7-day week.
A special feature of the plant is the completely outsourced raw material supply. In a "just-in-time" delivery, a clay company brings the raw materials to the plant. With 25 clay bodies, this is quite a logistical feat. Bannberscheid is noted for its many colours and more than 80 formats, so that a total of about 12 500 articles are produced: Bricks and clay pavers including the shaped accessories as well as brick and corner slips.
Keller HCW, VHV and Händle were also involved in the modernization project carried out in 2008 and later provided further information on the machines and equipment they had supplied. The plant is equipped with three shaping lines (three Händle presses). Two production lines process light- and white-firing clays on the one hand and coloured clays on the other. Bannberscheid has a chamber dryer with 16 chambers and a tunnel kiln. The firing temperature is about 1250° C, permanent reduction is possible.
A highlight is the fully automatic unloading, sorting and packing for brick slips, which also includes a visual inspection. This robotized system was realized by Keller HCW in 2014. The students were particularly enthusiastic about the "Spider" robots, which ensure a fast allocation of the brick slips to the transport equipment.
Guided in various teams by knowledgeable Röben employees, the tour was a highlight of the event.
Technical programme
After a group lunch at the "Genuss-Manufaktur" conference centre in Staudt, the extensive programme of talks started with an introduction by Ralf Borrmann. He presented the Röben company, whose history began in 1855 with the construction of a brickyard near Zetel in Frisia. Today Röben produces an extensive range of bricks, brick slips, prefabricated brick elements, clay roofing tiles, porcelain stoneware and clay pavers in 14 plants in Europe and the USA. Wilhelm-Renke Röben is now the 5th generation to manage the company while the 6th generation is already in the starting blocks.
Intelligent industrial robots – plant concepts using the example of a mixing plant as a standalone solution
Lutz Jankowski, Keller HCW GmbH, informed the participants about the Ibbenbüren-based plant manufacturer Keller, which celebrated its 125th anniversary in 2019 with around 330 employees and more than 20 trainees. Keller installed its first robot in 1992 and can now look back on a wide range of robot solutions. There are many reasons for the increasing use of robots in the industry, one of which is the growing shortage of skilled workers, emphasized Jankowski.
The presentation not only detailed the brick slip plant installed for Röben Bannberscheid, it also described a brick mixing plant. This robotized system mixes bricks from four pallets and then repackages this mix. Both the mixing ratio and the mixing sequence can be varied. In this way, the bricklayer is supplied with ready-mixed packages.
Impurities in plasticized ceramic bodies and their treatment
In his technical talk Thomas Kloft, Rehart Group, presented possibilities for removing impurities from clayey raw materials, both in preparation and shaping. He explained to the students that hard materials such as quartz or lime are usually removed during preparation, while soft materials are removed during the shaping process. In the brick and tile industry, clay cleaners are usually used to separate hard materials and screen filter mixers are used to clean the body. Each process has its advantages and disadvantages.
In the second part, "Teaming - from Batman to Daddy Day Care", Rehart's Managing Director Philipp Schülein showed how Rehart's "teaming" approach succeeds in creating a team-oriented community of experienced specialists and new employees. This includes flat hierarchies and the distribution of responsibility over several shoulders.
Application-oriented design of refractory systems for tunnel kiln cars in the ceramics industry
After an introduction with facts and figures on Refratechnik Ceramics GmbH and the Refratechnik Group by Mario Hollmann, Refratechnik Ceramics GmbH, Iwona Wystrach spoke on the specialist topic. She showed the students that refractory systems can be divided both according to their application and according to the firing system. Wystrach gave an overview of the structure and the various applications of refractory systems, from charge carriers to kiln furniture and kiln elements. She also explained the various activities that a graduate will have to undertake in the field of design, from data collection to technical drawings and the preparation of data sheets. Design engineers are often lateral entrants to the branch.
Innovative belt conveyor technology in the ceramics industry
The company VHV Anlagenbau GmbH is known for its modular conveyor concepts and with its 95 employees manufactures not only classical belt conveyors but also steep-incline conveyors and screening technology as well as accessories, as Pia Ungruh reported. She explained the different systems very clearly according to their mode of operation. The modular design is characterized by, amongst other things, optimal planning, ease of installation and maintenance, and flexibility. A special field and a space-saving alternative are steep-incline conveyors. Ungruh presented the conveying and transport system with all its refinements implemented at the Bannberscheid plant to the students, and she provided information about the company's activities in the employment of young professionals. VHV, for example, is also involved in the dual study programme.
Get-together
In the evening, the representatives of the participating companies and the students again had ample opportunity to network. The evening event was used to get to know each other and make new contacts. The students had the chance to talk to the company representatives about bachelor's or master's theses or even a career entry and career opportunities.
Energy-optimized brick production – present and future. An industry in transition?
Personnel Manager Harald Gruber, Hans Lingl Anlagenbau und Verfahrenstechnik GmbH & Co. KG, started off by informing the students about Lingl as an employer and the career opportunities in the company. The plant engineering company based in Krumbach offers a variety of employment possibilities and has already hired former students from previous excursions.
Manuel Bürzle pointed out that currently a large part of the process engineering work is in the field of modernization. The focus is on enhancing performance and quality as well as reducing energy consumption and emissions. There are various possibilities for optimization, one of them being burner air preheating. In a research project, energy savings of up to 50% were achieved and new burner types were developed. For graduates, Lingl offers many exciting projects and topics to work on.
Raw material components for a roofing tile body
Ralf Fichtner, Stephan Schmidt KG, introduced the raw material supplier with its approximately 200 employees to the students. The annual production of the family business amounts to more than 1.6 mill. t. The group not only has 20 mines, 16 of which are located in Germany's Westerwald region, but also nine mixing and homogenizing plants. These are used to produce standardized raw material blends.
Max Ferdinand, himself a recent graduate, then showed the results of a roofing tile body optimization with reference to a specific example. Such an optimization includes the collection of information, discussions with customers, an initial selection of raw materials, application technology trials and operational tests at the customer's premises. But it also includes clarification of future supply reliability and quality, volume flows and logistics, as well as all costs.
Redox reactions of polyvalent elements in glass melts
The company Grothe Rohstoffe GmbH & Co. KG is currently looking for ceramic engineers, as Jens-Uwe Flemming emphasized in his introduction. The engobe and glaze supplier from Bückeburg has a pool of more than 25 000 self-developed recipes, and with 350 permanently available raw materials is able to react very flexibly to customer requirements. Each product is individually tailored to the customer and his production technique.
Michael Optenplatz gave an interesting and in-depth insight into the work at the engobe/glaze supplier in his technical talk. One task is to replace raw materials with increasing prices with cheaper alternatives. Optenplatz explained the use of synthetic spinels stable at high temperatures in the glass matrix.
Progress through technology – discover the future
Michael Gulden, Händle GmbH Maschinen und Anlagenbau, first outlined the successful development of the expert in preparation and shaping. To date, Händle has supplied more than 6 000 presses and almost 6 000 box feeders worldwide. Three Händle extruders with barrel diameters up to 750 mm and throughput capacities up to 130 t/h are located in Bannberscheid.
In the second part, Jan Böhringer spoke about his career at Händle. As part of his dual studies, he was able to spend a semester abroad in the USA at the Händle parent company, Steele, where he compiled repair instructions for replacing parts. Using these instructions, customers can carry out repair work themselves, also with the help of videos. Böhringer drew a very positive conclusion and encouraged the students to venture into such experiences themselves.
Conclusion
The 2019 student excursion to the Bannberscheid plant of Röben Tonbaustoffe GmbH offered the students a well-rounded package: They were able to get to know potential employers, experience first-hand expert knowledge and, during the plant tour, get a glimpse of the daily work in the brick plant.
The evaluation of the questionnaires for the event showed that 96% of the students were satisfied to very satisfied with the technical quality of the presentations. The plant tour was also well received, for 94% it offers a good opportunity to gain a direct insight into brick production.
Of particular interest to the students is the information on training, entry and career opportunities in the individual companies. Those companies that present themselves here as an attractive employer have a good chance that graduates will remember them later.
All three supervisors emphasized that early insight into the technology of the brick and tile industry and its supplier sector is important for the students. The "competition" for the next generation of industry specialists is getting tougher and is starting earlier and earlier. Other ceramic industries are also trying to attract students with campaigns. It is worth doing something.
Our thanks go to our host, the Röben team and Ralf Borr-mann, for their great support. We should also like to thank our loyal industrial partners. With their commitment they make the realization of this event possible.
All together we offer future managers and specialists the opportunity to get to know the brick and tile industry as well as its suppliers and to make their first contacts in the branch.
Outlook
In 2020, we should again like to organize another student excursion. For this, we need the support of industrial partners. We should be happy to hear from any company that would like to get involved with the excursion! Take the opportunity to present yourself to interested students as an attractive employer.
If you are interested in hosting the next student excursion at your brick plant, please call me (+ 49 5241 8089264). I am looking forward to an interesting excursion in 2020.
Zi Ziegelindustrie International
www.zi-online.info
Ralf Borrmann, Technischer Geschäftsführer Röben Tonbaustoffe GmbH
"Die Zi-Fachexkursion im Westerwald war aus meiner Sicht ein voller Erfolg – einerseits aufgrund der perfekten Vorbereitung und Organisation durch den Veranstalter, die Fachzeitschrift Zi Ziegelindustrie International bzw. den Bauverlag, andererseits aber auch durch das interessante Vortragsprogramm.
Die Sponsoren der Veranstaltung haben sich gut präsentiert und den Studierenden viele Informationen über mögliche Berufs- und Karrierewege gegeben.
Die Firma Röben konnte sich und ihr modernstes Klinker- und Riemchenwerk in Bannberscheid/Westerwald präsentieren und den Studenten zeigen, dass heutige Ziegelproduktion hochmodern und fast vollautomatisiert ist.
Das Interesse der Besucher war sehr groß und im Rahmen des Get-together am ersten Veranstaltungstag wurden noch viele Informationen ausgetauscht.
Wir freuen uns, dass wir zum Gelingen der Veranstaltung beitragen konnten und hoffen, bei den Studierenden das Interesse an einer Tätigkeit in der Ziegelindustrie geweckt zu haben."