Experience, quality, development –
Burton celebrates its 125th founding anniversary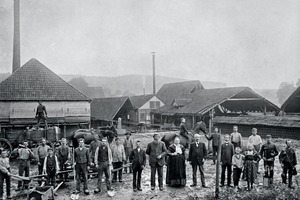 »1
The cornerstone for today's Burton GmbH + Co. KG in Melle was set in 1887 with the founding of a family enterprise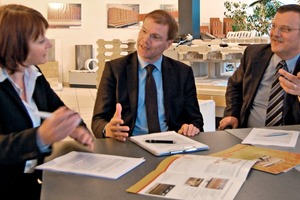 »2
Márton Varga (at right) and Jörn Böke explain the company's 125-year history to Zi Editor Anett Fischer
A family enterprise founded in 1887 laid the cornerstone for today's Burton GmbH + Co. KG in Melle. Now, 125 years later, Burton is a global leader in the supply of refractory materials. In recent times, the company has been focussing on the development of lightweight, energy-saving products. We spoke with Managing ­Director Márton Varga and Sales Manager Jörn Böke about Burton's past, present and future.

Zi: Mr. Varga, with over 30 years' experience in the refractory industry and 10 years' service as Burton's Managing Director, you have decisively helped shape and mould the enterprise. What do you see as highlights in the company's history?
M.V.: Well, I have been with the company since 1979, and while 33 years may sound like a lot, it only covers one-fourth of Burton's history. Looking back, the 1950s and '60s were the decisive decades for our company. It was during that time that then-proprietor Karl Hermann Hensiek decided to stop making bricks in favour of refractory systems. That marks...