Klosterbeuren Brickworks commissions new filling system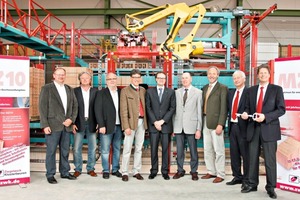 »
At the commissioning of the new facility at Klosterbeuren Brickworks, from left: Rudolf Mensinger (production manager at Klosterbeuren Brickworks), Hans Jörg Settele (construction contractor Settele), Architect Martin Gleich, Babenhausen's Mayor Otto Göppel, Frank Appel from Lingl, the plant supplier, Karl Hertle from the company Grenzebach, District Administrator Hans-Joachim Weirather along with Hubert and Thomas Thater, the two Managing Directors at Klosterbeuren Brickworks
Klosterbeuren Brickworks has extended its existing Plant I, and in a new production facility, it is now producing the MZ 7 and MZ 10 bricks of the "My Brickhouse" alliance of companies. Investment in the largely robot-controlled manufacturing technology in the new plant IV totals around € 6.5 mill.
"We previously procured the bricks of the MZ generation from our colleagues in Bellenberg and Alzenau. But these are no longer enough to meet demand. The demand for the high-insulation energy-saving brick is simply too high", explained Hubert L. Thater, Managing Director at Klosterbeuren, at the official handover of the keys and inauguration of the new production plants. Thanks to the new manufacturing line, Klosterbeuren can now make energy-saving bricks with a monthly output for the building of 100 detached houses.
Core component in the 1 500-m² new facility is a filling installation in which the high-insulation precision-ground blocks are filled with rock wool. Five robots ensure, for instance, that the bricks are unloaded fully ­automatically from the tunnel kiln cars, precision-ground and filled with rock wool. The blocks are then film-wrapped and transported for storage.