Wienerberger Gmbh acquires Bavarian manufacturer of roof ceramics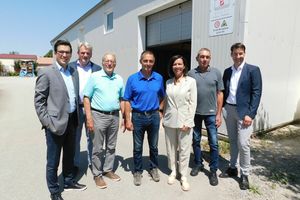 Wienerberger
»
From left to right: Jürgen Habenbacher Managing Director Wienerberger, Jörg Boldt Managing Director Finance Wienerberger, Dr. Leonhard Froschauer Managing Director Mayr Dachkeramik, Thomas Mayr Managing Director Mayr Dachkeramik, Heidrun Keul Managing Director Strat. Marketing and Product Management Wienerberger, Christoph Mayer Technical Manager Wienerberger plant Straubing, Christoph Döpke Managing Director Human Resources & Organization
Wienerberger
Wienerberger Deutschland GmbH has acquired Mayr Dachkeramik GmbH in Lower Bavaria, effective July 1, 2022. According to the press release, the clay construction specialist intends to expand its product portfolio and improve the value chain in the area of roofing accessories. The contracting parties have agreed not to disclose the purchase price.
Competence center for ceramic roof accessories
Wienerberger currently produces a range of clay building materials for the entire building envelope at a total of 16 locations throughout Germany. With the acquisition of Mayr Dachkeramik GmbH, Wienerberger strengthens its national and international deepening in the roofing market and thus its future and competitive position.
The company is to be integrated into Wienerberger Deutschland GmbH with its existing employees and managed as a competence center for high-quality ceramic roofing accessories and innovation. In Germany, the Mayr Dachkeramik brand will remain with Wienerberger under Koramic roof solutions. Cooperation with other Wienerberger national organizations will be stepped up.
"With this measure, we are strengthening our future and competitive position and improving our value creation as an innovative and reliable partner for our customers. Our declared goal is to continue the successful path of Mayr Dachkeramik GmbH as an independent company," explains Jürgen Habenbacher, Managing Director of Wienerberger Deutschland GmbH, in the statement.
About Mayr Dachkeramik
Mayr Dachkeramik is a manufacturer of high-quality ceramic accessories and offers a wide range of articles and colors. As a result, Mayr Dachkeramik has a unique selling point in the roof accessories sector due to its quality and individual contract manufacturing. It has a production site in Salching (Bavaria), approx. 50 km west of Regensburg and thus in the immediate vicinity of the Wienerberger roof tile plants in Straubing (approx. 5 km) and Bogen (approx. 20 km).