Lingl expands portfolio by Novokeram's
entire know-how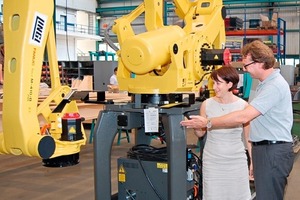 »1
Lingl managing director Frank Appel explains the latest in robot technology to Zi Editor Anett Fischer
On June 30, 2010, Lingl's managing directors Andreas Lingl and Frank Appel, together with Christian Wagner, the seasoned proprietor and president of Novokeram, signed and sealed Lingl's acquisition of Novokeram's know-how. From now on, Lingl will be responsible for managing and stewarding the Novokeram label and the associated know-how, including all property rights, drawings and customer data. Frank Appel (F. A.) and Christian Wagner (C. W.), who was already on the road in Asia for Lingl at the time of this interview explained to us what this will mean for the customers.
Zi: Mr Wagner, after spending more than 20 years as president of Novokeram Max Wagner GmbH, you were forced to file for bankruptcy in November 2009 due to the dramatic deterioration of your business situation. Now, your entire know-how is in Lingl's hands. Would you please summarize this for us, including your plans for the future?
C. W.: 2008 was the best year our company ever had, and 2011 was supposed to mark our 50-year anniversary. Unfortunately, however, we received no new equipment orders whatsoever from November 2008 to November 2009. As 2009 drew to a close, I was faced with the...