Interview with Horst Klockgether, Röben Tonbaustoffe GmbH, Zetel, Germany/Deutschland
Taking off with prefabricated clay brick elements …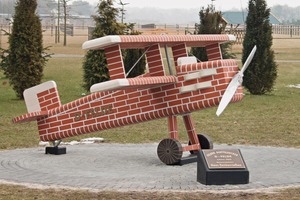 … well, you cannot quite do that yet. But there are almost inexhaustible possibilities to use prefabricated clay brick elements to design attractive, modern architecture. In a talk with us, Dipl.-Ing. Horst Klockgether (54), Head of the Design and Planning and Product and Application Engineering Departments at Röben Tonbaustoffe GmbH, highlights the special features of prefabricated clay brick elements.

Zi: Is building with prefabricated clay brick elements cheaper than conventional masonry?
H. K.: If you look at prefabricated houses, and a lot of these are sold today, they are certainly cheaper than an architect-designed house. Here at Röben, we provide tailored solutions for designers and architects. The focus here is not on the price benefit, but on finding an innovative solution to realize ambitious ideas. Prefabricated elements are used where no or only unsatisfactory results could be achieved with conventional technology. That can be accompanied by cost benefits.
Our approach is to...