9 – 11 October 2012
60 years of the TBE – Annual General Assembly 2012 in Brussels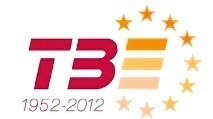 Tuesday, 9 October/Dienstag, 9 Oktober12.00Welcome buffet lunch & registration/Mittagessen und Registrierung13.30 Masonry & roof tile combined product group/kombinierte Produktgruppensitzung Mauerwerk und Dachziegel17.30End of meeting/Ende der Sitzung19.00Welcome drink with guest speaker/Willkommens-Drink mit GastrednerWednesday, 10 October/Mittwoch, 10. Oktober09.00General Assembly/Generalversammlung10.30Architectural visit/Architekturrundgang12.00Lunch in the European Parliament/Mittagessen im Europäischen Parlament13.30Conference in the European Parliament/Konferenz im Europäischen ParlamentSocial programme/Begleitprogramm16.30End of meeting/Ende der Sitzung20.00Cocktail & Gala dinner/Cocktailempfang und Gala-DinnerThursday, 11 October/Donnerstag, 11. Oktober09.30Social programme/Begleitprogramm12.30Lunch/Mittag14.00End of conference/Ende der KonferenzHotel Sofitel Brussels EuropeEuropean ParliamentOther locations
Tuesday, 9 October/Dienstag, 9 Oktober12.00Welcome buffet lunch & registration/Mittagessen und Registrierung13.30 Masonry & roof tile combined product group/kombinierte Produktgruppensitzung Mauerwerk und Dachziegel17.30End of meeting/Ende der Sitzung19.00Welcome drink with guest speaker/Willkommens-Drink mit GastrednerWednesday, 10 October/Mittwoch, 10. Oktober09.00General Assembly/Generalversammlung10.30Architectural visit/Architekturrundgang12.00Lunch in the European Parliament/Mittagessen im Europäischen Parlament13.30Conference in the European Parliament/Konferenz im Europäischen ParlamentSocial programme/Begleitprogramm16.30End of meeting/Ende der Sitzung20.00Cocktail & Gala dinner/Cocktailempfang und Gala-DinnerThursday, 11 October/Donnerstag, 11. Oktober09.30Social programme/Begleitprogramm12.30Lunch/Mittag14.00End of conference/Ende der KonferenzHotel Sofitel Brussels EuropeEuropean ParliamentOther locations
Last year in Cyprus, we decided to hold our 2012 General Assembly in Brussels in order to further increase our visibility and to have a greater opportunity to convey our messages to EU decision-makers. Now the programme has been released and registration to the anniversary event is open.
On Tuesday 9 October, the joint meeting of the masonry and roof tile product group will be held. This technical meeting will allow our members to discuss the latest standardization (CEN) and legislative initiatives. A large room has been booked and so on top of our usual experts all TBE members are invited to attend.
The General Assembly will be held in the morning of Wednesday 10 October and will be followed by an architectural tour of the city.
The participants will then move to the European Parlia­ment for lunch and, more importantly, for a workshop on energy efficient homes and the issue of affordability. The guest speakers will include our host, German Member of the European Parliament, Mr Karl-Heinz Florenz and Mr Lambert Van Nistelrooij, Vice-President European Parliament Urban intergroup. The national associations and CEOs are called on to contact some of their respective Members of the European Parliament and invite them to take part in this important debate.
Energy efficiency is high on the EU agenda as the Council, the Parliament and the Commission have started the final phase of negotiations for the Energy Efficiency ­Directive. More so, housing affordability is fast becoming a political issue as ­CECOHDAS, the European Federation of social, cooperative and public housing and other political actors are lobbying hard on the subject. The TBE has published a position paper on the political support required at EU-level for affordable, energy efficient and sustainable buildings. It is available on the website www.tiles-bricks.eu.
The gala dinner will be held amongst the world's largest dinosaur collection at the Royal Belgian Institute of Natural Sciences. The museum is based on the collection established by Prince Charles Alexander of ­Lorraine, which dates back to the 18th century.