Wienerberger Facility in Haiding
Austria's first mineral-wool filling plant for backing bricks now in operation
»1
Mag. Christian Weinhapl and Dr. Heimo Scheuch proudly presenting the mineral wool-filled backing brick Porotherm W.i.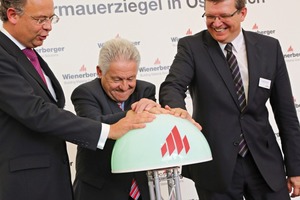 »2
New mineral-wool filling plant gets green light: Dr. Heimo Scheuch, Governor Dr. Josef Pühringer and Mag. Christian Weinhapl (from left to right) successfully commissioned the new plant
In Haiding, Austria, on 24 September 2013, Wienerberger AG ceremonially commissioned the country's first mineral-wool filling plant for backing bricks. Built by Keller HCW in the record time of only 12 weeks, the plant is needed for producing the top products of Wienerberger's heavy clay array: the Porotherm W.i..
As Mag. Christian Weinhapl, managing director of Wienerberger Ziegelwerke GmbH, explains, "W.i. stands for Wärmedämmung inklusive (= integrated insulation), meaning that the insulating material – natural rock wool – comes as part of the clay block. That not only makes it unnecessary to install supplementary exterior insulation, but also saves time and money. This innovative clay block from the House of Wienerberger is a landmark product for energy efficient construction.Dr. Heimo Scheuch, chief executive officer at Wienerberger AG, emphasised the product's innovativeness by noting that, "Buildings account for some 40% of Europe's total energy consumption. Climate change, urbanisation, affordable housing and the responsible use of resources pose great challenges. Wienerberger is constantly working on the development of new products and solutions to fulfil all those demands and requirements. Our innovative, highly insulative clay blocks stand for the future of construction, because they make it possible to construct today buildings that already meet tomorrow's requirements, as defined in Europe's Energy Performance of Buildings Directive 2020 and, at the same time, provide building occupants with a pleasant, healthy indoor climate and, hence, maximum quality of life, thanks to the special properties of clay blocks. Buildings made of these highly insulative blocks help achieve major reductions in energy consumption and CO2 emissions  and therefore count as a crucial contribution to climate protection".
Speaking after Dr. Heimo Scheuch, Upper Austrian Governor Dr. Josef Pühringer underscored the fact that, by investing in Haiding, Wienerberger has made a valuable contribution toward more energy and resource efficiency. "This is where future markets will be emerging," he said. "The world market volume for environmental and efficiency technology is presently situated at 1.7 billion euros per year and is expected to double within the next decade. Those who invest in this sector now will be both today's and tomorrow's technological leaders."
After Mag. Pater Johannes Kriech spoke a church blessing over the new facility, Governor Dr. Josef Pühringer, Dr. Heimo Scheuch and Mag. Christian Weinhapl pushed the big start button to officially launch Austria's first mineral-wool filling plant for Wienerberger backing bricks – attended by much applause, of course.
During the subsequent walkaround tour of the plant, Mag. Christian Weinhapl expressly thanked the visiting Keller HCW staff once again for all the excellent teamwork over the past weeks and months. "Keller HCW," he said, "not only erected the new mineral-wool filling plant in record time, but even integrated it into the facility's ongoing production activities without the slightest hitch. As of today, Haiding has the most modern facility of it kind in the entire Wienerberger Group."