German roofing tile manufacturers with sales decline in 2015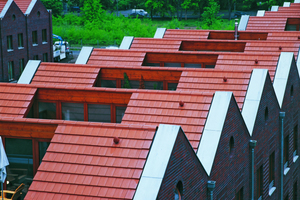 Pictures/Bilder: Bundesverband der Deutschen Ziegelindustrie
Pictures/Bilder: Bundesverband der Deutschen Ziegelindustrie
Despite a decline in sales in 2015, the German clay roofing tile manufacturers are looking optimistically into the future. Strong economic data and mild weather conditions are giving hope to this sector of the industry.
According to Germany's Federal Statistics Agency, the production of clay roofing tiles was announced to 624.9 mill. units in 2015 (2014: 660.1 mill. units), which corresponds to a decrease of 5.3 %. For the production value of the clay roofing tiles too, the German manufacturers organized in the Federal Association of the German Brick and Tile Industry, reported a small loss. Last year, products to a value of € 672.4 mill. were manufactured (2014: € 702.9 mill), that is a drop of 4.3 %.
Positive outlook for 2016
The mood among German roofing tile manufacturers is, however, not downcast, despite...