New clay masonry block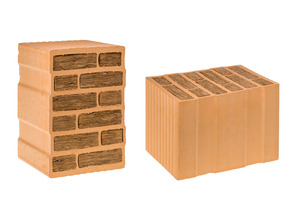 Photos/Fotos: Ziegelwerk Bellenberg/Gerd Schaller
»
With the new MZ60 clay masonry blocks, Efficiency House standards can be met with monolithic solid construction.
Photos/Fotos: Ziegelwerk Bellenberg/Gerd Schaller
Ziegelwerk Bellenberg is presenting a new clay masonry block. Thanks to an array of technical advantages, the MZ60 can be used to meet all "Efficiency House" standards in future, according to a press announcement from the company. Building designers and contractors profit from cost efficiency and safety during building execution. In addition to certified sustainability, building owners can expect up to 150 000 euros in state subsidies in Germany.
With a thermal conductivity of 0.06 W/(mK), a thermal transmittance coefficient (U-value) up to 0.12 W/(m²K) and a thermal storage capacity up to 294 kJ(m²K) depending on wall thickness (36.5 to 49.0 cm), the MZ60 is, according to its manufacturer, one of the most thermally optimized masonry blocks available in Germany. This is down to the insulation pads consisting of natural mineral wool that are integrated and therefore protected within the clay blocks. The balanced combined effect of thermal insulation and thermal storage capacity is a key precondition for lasting comfort in buildings in these times of climate change, says the brick manufacturer.
Cost-efficient building to meet the highest standards
Residential buildings built with solid MZ60 masonry in a standard design meet the new KfW Efficiency House standards 40 plus, 40, 40EE, 40NH, 55, 55EE and 55 NH. Homogeneous monolithic MZ60 masonry can be built to minimize thermal bridges. System accessories for external corners, window reveals, pier masonry as well as for levelling room heights and window reveals are available for further optimization of the building envelope. Break-in resistance to resistance class RC 3 has been proven. Masonry built with MZ60 clay blocks also achieves excellent load-bearing capacity of fK 2.2 MN/m². Modern, spacious and open layouts are therefore possible.
Sustainable building material
MZ clay blocks have been awarded certification by the eco-Institut (Cologne) with the eco-Institut-Label. Moreover, all data on their scientifically proven sustainability are documented in an environmental product declaration (EPD) from the Institut Bauen und Umwelt (Institute of Building and Environment in Berlin). The EPD provides designers and end-customers with a transparent decision aid for the targeted selection of suitable building materials for sustainable building. In the EPD, besides a lifecycle analysis, there are data on the consumption of resources and energy as well as detailed information on internationally agreed environment indicators. As further sustainability factors, the manufacturer points out the regional availability and extraction of the raw materials as well as the short delivery routes to construction sites.