Schlagmann Poroton commissions fourth perlite filling system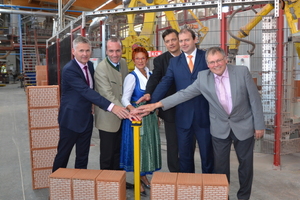 Photos/Fotos: Schlagmann
»1
Officially dedicating Schlagmann Poroton's fourth perlite filling system at company headquarters in Zeilarn: Johannes Edmüller, executive director of Schlagmann Poroton; Manfred Weber, MEP; Reserl Sem, state representative; Heinz Girgner, Zeilarn site manager; Michael Fahmüller, Rottal-Inn district administrator, and Werner Lechl, mayor of Zeilarn municipality (from left)
Photos/Fotos: Schlagmann
On the occasion of this year's summer festival, Schlagmann Poroton unveiled its fourth perlite filling line for highly insulative Poroton blocks at the main plant in Zeilarn, Bavaria.
Made necessary by high demand for perlite-insulated Poroton blocks, the new system costs roughly € 4.5 mill. European Deputy Manfred Weber, who pushed the official start button together with Managing Director Johannes Edmüller and other political guests of honour, was quite impressed by the fully automated production process operating almost exclusively via robotic stations.
Exactly 16 years ago, in 2001, the first of what are now four systems for filling perlite insulation material into Poroton blocks went into operation – a real milestone at the time, not only for the company, but for the entire branch, as well. Two hundred and forty pallets, i.e., enough clay blocks to build three detached houses, pass through the energy-optimized system every day. In comparison with line 3, dating from 2006, line 4 consumes only half as much energy for drying the perlite-filled blocks.
Indeed, over the course of the past few years, Schlagmann's modernization efforts and new system installations have significantly reduced overall energy consumption and scaled back the company's "carbon footprint" (in terms of product-specific CO2 emissions). The company's ambitious goal - carbon-neutral production - is both expensive and arduous. Right now, the plans made for achieving that ambitious goal are still being polished, as Edmüller revealed in an interview together with Manfred Weber.
Schlagmann Poroton GmbH & Co. KG
www.schlagmann.de