20 years of perlite clay blocks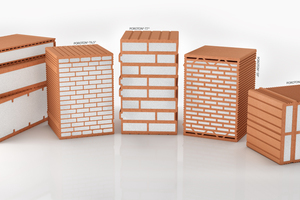 Photos/Fotos: Schlagmann Poroton
»
The product range of climate-neutral perlite clay blocks enable both the construction and renovation of energy-efficient and climate-neutral buildings.
Photos/Fotos: Schlagmann Poroton
In 1995, with the introduction of Germany's 3rd Thermal Insulation Ordinance (WschV), clay blocks reached the limits of their capability with regard to their thermal insulation properties. The predecessor of the Energy Saving Ordinance (EnEV) targeted a considerable reduction in the energy consumption of buildings, the background being rising energy prices.
Many efforts were made to improve the thermal insulation levels of the clay blocks, but these led to a deterioration of their structural properties at the same time. There was a threat that clay blocks would be used just as a wall for attaching additional synthetic exterior insulation. But the product developers at Schlagmann Poroton came up with a brilliant idea: "Why don't we fill the insulation into the clay block instead of sticking it to the outside of the block?" With the patented innovative perlite filling, the clay block became the thermally insulating clay block, while the structural properties of the clay block could be preserved at the same time.
Integrated perlite thermal insulation
With the Poroton-T9, in 2001 Schlagmann Poroton premièred a clay block on the market that with its robust block structure and solid web elements could meet all the structural requirements and the stricter requirements for insulation at the same time, as it says in a company press release. The big plus: solid and monolithic brick walls can be built with these clay blocks without any synthetic exterior insulation. With perlite, an ecological insulating material of natural origin, formed from volcanic rock, was found. To this day, energy-saving houses meeting a range of requirements can be built with Poroton clay blocks.
Development is ongoing
The load-bearing capacity of perlite blocks has been steadily increased to be able to build monolithically in commercial construction. Today buildings with up to nine full storeys can be realized – ideal for housing construction. Moreover, with the Poroton-WDF, a perlite-filled facade insulation for the renovation of existing buildings has been added to the range available. With what is currently the "warmest clay block" according to Schlagmann, the Poroton T6,5, KfW-40 houses can be built without any difficulties. Since 2019, the perlite filled clay blocks have been climate-neutral, certified by TÜV Nord.
"With the combination of all its properties, perlite is the best insulating material we know," explains Johannes Edmüller Managing Director at Schlagmann. Perlite was, he continued, a natural insulating material, free of harmful substances and emissions, lightweight and non-flammable, for a healthy living climate, being both ecological and recyclable. At the company-owned clay block research centre in Zeilarn, Schlagmann continues to research the improvement of clay blocks filled with insulating material.