New from Schlagmann Poroton
Poroton-WDF – the ceramic thermal insulation façade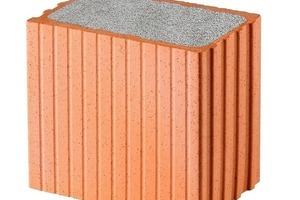 >>1 The Poroton-WDF thermal insulation facade is a sturdy brick wall that is filled with perlite, a natural thermal insulation material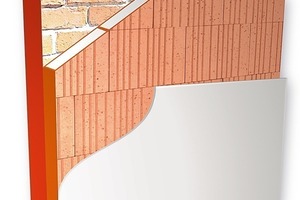 ››2 Effective external insulation of the façade consists of layer of Poroton-WDF, with a commercially available lightweight render as the covercoat. Layer structure in the figure from left: existing wall, Poroton-WDF, lightweight render
At Bau 2009 in Munich, Schlagmann presented an ecological façade insulation system: Poroton-WDF is in fact a double-leaf masonry system with rendering (in compliance with DIN 1053-1:1996-11 Section 8.4.3). The facing leaf consists of high thermal insulation blocks, which are built up quickly and easily in front of the existing wall. At the core of these high thermal insulation bricks is a filling of mineral perlite (natural volcanic rock). Thanks to the combination of clay block and perlite, Poroton-WDF features a very low thermal conductivity value of 0.065 W/mK. With this high thermal insulation, the clay-block-based thermal insulation façade can be used to improve the insulation of existing walls built in different years to match the performance of new buildings.
The effective exterior insulation of a façade described above consists of just two layers: Poroton-WDF plus a lightweight render. In contrast, many commercially available external thermal insulating composite systems (ETICS) consist of a large number of layers. In addition, the problems of "woodpecker damage" or expensive improper ETICS treatment can be eliminated with the solid 15-mm-thick block webs of this new type of thermal insulation façade. Algae growth on the façade and mildewing in the living space is prevented as the structure remains open to vapour diffusion. Moreover, in the event of fire, the thick webs afford somewhat longer protection than rival products. Clay blocks are
renowned for their fire resistance and can meet the highest fire protection requirements. Thanks to its stability compared to other systems, Poroton-WDF is a very durable method for upgrading building façades. With regard to investment costs, resistance and durability, it boasts high cost efficiency.
With the new Poroton-WDF thermal insulation façade, a clay-brick-built house stays a clay-brick-built house. In addition, houses made of lightweight structures clad with Poroton-WDF to upgrade them can be made into solid and economic brick-built houses.