New equipment, new moulds, new possibilities
Ziegelwerk Klosterbeuren invests in process optimization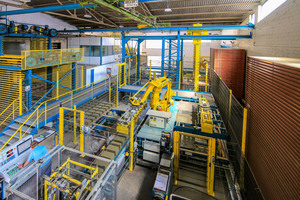 Photos/Fotos: Ziegelwerk Klosterbeuren
»1
Ziegelwerk Klosterbeuren has modernized the shaping equipment and the complete wet and dry sides in Plant I
Photos/Fotos: Ziegelwerk Klosterbeuren
The brickworks Ziegelwerk Klosterbeuren has invested around € 1.2 mill. in modernization of the shaping equipment as well as the complete wet and dry sides in Plant I.
In the past six years, Ziegelwerk Klosterbeuren has channelled over € 12 mill. in new manufacturing technologies as well as in measures to save energy and reduce emissions of pollutants. The modernization of the equipment for shaping and the wet and dry sides was an important step towards the future. The equipment previously used in Plant I had already been in operation for 30 years. To pave the way for successful production in the long term, the company itself installed the new brick press with double-shaft mixer supplied by Petersen, the wet side with single cutter and the dry side with robot and equipment for kiln car transport supplied by Lingl based in Krumbach.
With the new press, with a capacity of 50 t/h, new products with future-oriented perforation patterns can be manufactured and the production quality improved considerably. A setting robot ensures gentle handling of the bricks.
Ziegelwerk Klosterbeuren Ludwig Leinsing GmbH & Co. KG
www.zwk.de