Stretch, do not shrink – the upcoming practice in the brick and tile industry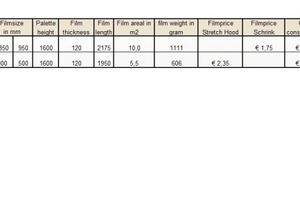 »Table 1
A direct comparison between shrink hooding and stretch hooding technologies underscores the cost advantage
Beumer stretch hooding systems are serving well in the chemical and cement industry and represent the state of the art in pallet packaging. Featuring class-leading control technology, modular design and optimized packaging-film handling, the stretch hooding system offers numerous options spanning a broad range of pallet packaging challenges and requirements. Since most of the brick and tile industry still uses shrink hooding, Beumer senses an expanding market and has therefore reinforced its prowess with Christian Matzen, Senior Sales Manager Packaging Systems. We spoke with him about the Beumer Group's chances and ­objectives in this market.
Zi: Mr Matzen, you worked for a well-known Danish manufacturer of packaging machines for quite some time. Now that you are with the Beumer Group, what are your new objectives?
C. M.: I was looking for a new career challenge and wanted to develop the perfect packaging system for the brick and tile industry. The Beumer Group provides an ideal background for that here in Beckum, where we intend to design and build a stretch hooding system that optimally meets the needs of our customers in the brick and tile industry.
Zi: What made Beumer decide to intensify their ­efforts in this field just now, in...