Prof. Dr.-Ing. Christian Schäffer
Combined kiln-dryer heating systems with thermochemical heat storage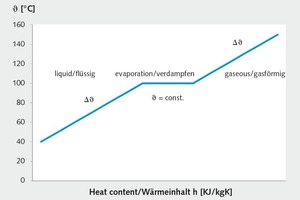 »1
Heat content h of water on temperature increase and evaporation: in liquid and gas state, the supply of heat leads to a temperature increase (sensitive heat), on phase transformation the heat is consumed for the phase change (latent heat)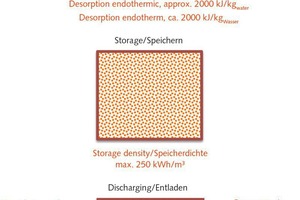 »2
Schematic showing a thermochemical heat storage unit. By means of drying (desorption) the storage unit is charged and it is discharged by wetting (adsorption). Heat storage is based on removal of water, as a result, no adsorption can take place and the condensation heat cannot be released
This article presents how thermochemical storage can be used to make energy supply to the drying process ­independent of when heat is available from the kiln and how hybrid heating can be realized.
1 Introduction
In Zi Brick and Tile Industry International 7/2015, the concept of a brickworks with a "hybrid-ring tunnel kiln" was presented, in which the kiln cooling/dryer combined heating system is replaced with a kiln exhaust/dryer combined heating system with maximized exergy efficiency. With hybrid heating and networked utilization of electrical energy, significant cost savings are to be achieved.
However, one problem always associated with combined systems is the under certain circumstances fluctuating utilization of the installed production capacities and the synchronization of the...