Prof. Dr.-Ing. Christian Schäffer
Hybrid-ring tunnel kiln with flue-gas-based combined heating system: 65% savings on energy – a concept study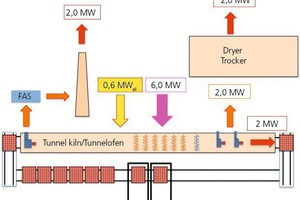 »1
Exemplified energy requirements of a conventional heavy clay plant. To cover a thermal energy requirement of 6 MW, 2 MW is taken from the cooling zone for the dryer. The waste gas losses account for another 2 MW, and the sundry remaining heat requirements together amount to the last 2 MW. The electrical energy requirement is 0.6 MW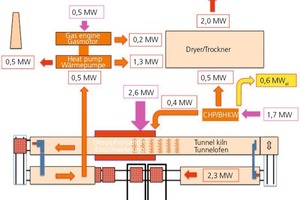 »2
A high-temperature desulphurization concept. Waste gas is drawn out of the kiln tunnel at temperatures in excess of 450° C and sent through solid beds that absorb sulphur compounds. The cleansed gas is returned to the firing space
In its 6/2015 issue, Zi Brick and Tile Industry International presented the Brickworks 4.1 concept in which hybrid heating and networked production and use of electricity yield significant cost reductions. The present contribution explains how brickworks can be operated with maximum utilization of the exergy content of primary energy sources – in addition to energy networking and hybridization – in order to achieve maximum possible energy and cost efficiency.
1 Introduction
The concept begins by dissolving the kiln/dryer combined heating system, instead supplying the dryer with energy via exergetically optimized heat flow from the kiln exhaust and power generation. The dissolved kiln-cooling/dryer combined heating system is replaced by a kiln-exhaust/dryer heating system.
A hybrid arrangement allows to choose between electric heating when electricity prices are low and, on normal operating mode, power generation both for captive use and feed-in to the public power grid.
The concept is also geared to converting and supplementing existing facilities...