Juwö Poroton-Werke takes over Zeller Poroton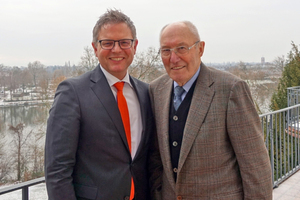 Photos/Fotos: tdx/Juwö Poroton-Werke
»
Dipl.-Kfm. Univ. Stefan Jungk (left) buys Adolf Zeller GmbH & Co. Poroton Ziegelwerke KG from Adolf Zeller
Photos/Fotos: tdx/Juwö Poroton-Werke
With effect from 1 January 2017, Juwö Poroton-Werke Ernst Jungk u. Sohn GmbH, Wöllstein (Rhineland-Palatinate) has acquired Adolf Zeller GmbH & Co. Poroton Ziegelwerke KG, Alzenau (Bavaria).
With this takeover, Juwö Poroton-Werke, with a turnover of almost € 30 mill. and 138 employees. is one of the biggest clay block manufacturers in the Rhineland-Palatinate, Hesse, Northern Bavaria and the Saarland regions and therefore one of the leading building materials manufacturers in the metropolitan Rhine-Main region as well as in Western and Southwestern Germany. Zeller Poroton will be retained as the company name under the umbrella and corporate design of Juwö Poroton-Werke. All employees will be kept on. Confidentiality was agreed with regard to the sale price.
Juwö Poroton-Werke and Zeller Poroton are already undertaking joint product development and management and are founding members of the "Mein Ziegelhaus"-Group, an umbrella organization to which seven masonry block manufacturers belong. "With the takeover, the strengths of the plants will be bundled and focussed under a unified management. The goal is to secure and extend the excellent position of clay brick as a building material in the future", says Dipl.-Kfm. Univ. Stefan Jungk, owner and Managing Director of the Juwö Poroton-Werke.
Juwö Poroton-Werke
www.juwoe.de