Hörl & Hartmann Ziegeltechnik GmbH & Co. KG
New system and prefabricated accessories for homogeneous Silvacor masonry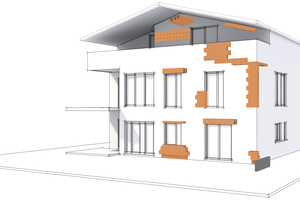 Photos/Fotos: Hörl & Hartmann Ziegeltechnik
»
For Silvacor, Hörl & Hartmann offers a full assortment of accessory blocks and system products to optimize the quality of the building shell
Photos/Fotos: Hörl & Hartmann Ziegeltechnik
Silvacor is a masonry building material that combines the strengths of clay blocks with an insulating wood filling. To optimize the energy balance of the entire building envelope, Hörl & Hartmann has developed an extensive assortment of accessory elements and system products especially for Silvacor.
The basic elements are the Silvacor W07 and W08 clay blocks with a coefficient of thermal conductivity λR [W/(mK)] of 0.07 or 0.08, available in the wall thicknesses 30, 36.5, 42.5 and 49 cm.
In addition to these, special, newly developed reveal and levelling blocks are now available. With the levelling block, Hörl & Hartmann has brought out another product for optimizing efficiency. With standardized intermediate sizes in heights between 12.4 and 22.5 cm instead of the normal size of 24.9 cm, room heights and window parapets can be installed without the need for sawing on site.
Minimizing thermal bridges
Particular attention is needed to avoid thermal bridges at typical joints in the building envelope, which can have different properties if the masonry is not homogeneous. A ceiling edge block supports energy-optimized installation of floor slabs. It consists of an outer clay shell and two thermal insulation layers of Neopor and is available in the standard wall thicknesses between 30 and 49 cm as well as for slab thicknesses between 18 and 24 cm. For installation at floor slab edges without supports, like, for example, lintel-free window openings, the company manufactures a variant with back anchoring.
An insulating shell for ring beams has been designed to improve structural stability, and especially to withstand tensile stresses and compressive force. Thermal insulation brick lintels in straight form and as round and segmented arches along with roller shutter and venetian blind boxes round off the block system. To obtain a uniform surface for render on structurally necessary concrete surfaces, like, for example, lift shafts, Hörl & Hartmann offers brick panels as special constructions in compliance with DIN 18515.