Unipor slab edge elements improve sound and thermal insulation in multi-storey construction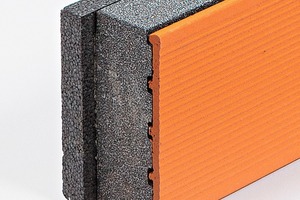 Photos/Fotos: Unipor, München
»1
Twice as good, singularly slim: two components made of Neopor of different thickness optimize sound and thermal insulation of the Unipor slab edge element
Photos/Fotos: Unipor, München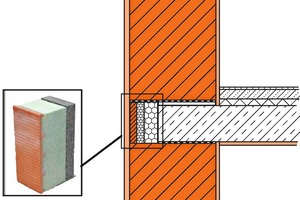 »2
Brick shell on the outside, thermal insulation on the inside: Unipor slab edge elements enable not only a homogeneous wall structure, but optimize thermal bridges and sound insulation at the slab joint
The Unipor Ziegel Group is now supplying slab edge elements as part of a system solution: Consisting of an external brick shell and two highly effective insulating components made of Neopor, they reduce heat bridges with a maximum value of 0.06 W/(mK) – independent of the wall thickness.
The bearing depth of at least two thirds obtained with the slab edge elements has a positive effect on the statics of the entire building and supports force transmission in the wall-slab junction. It therefore conforms to the parameters in Eurocode 6. The elements are available with various insulation thicknesses (10/12/14/16 cm) depending on the respective wall thickness as well as in four slab thicknesses (18/20/22/24 cm).
Thanks to their low weight and easy installation, Unipor slab edge elements are easy to fit: they are fixed in place with capping thin-bed mortar or PU foam. As time-consuming formwork is not necessary, the time required and costs are reduced. The grooved brick shell avoids mixed masonry. It enables a homogeneous exterior wall surface with a uniform appearance. This means that the slab edge elements are an improvement visually as well as in acoustic and energy terms.