Hörl+Hartmann takes over thermal bridge specialist
13.04.2023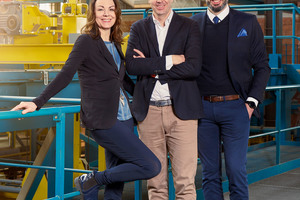 Hörl+Hartmann Hörl+Hartmann
» With the acquisition of DiHa GmbH, the siblings Manuela, Michael and Matthias Hörl are pleased to be able to expand the range of system products of the leading family-run brick manufacturer with numerous patent-protected products
Hörl+Hartmann Hörl+Hartmann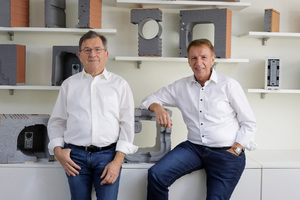 Hörl+Hartmann
» DiHa company founder Anton Kempter (right) and Managing Director Konrad Wetzstein see the takeover as a win-win situation for both companies
Hörl+Hartmann
With the takeover of DiHa GmbH, one of Germany's leading family-run brick manufacturers expands its range of system products. Numerous patents ensure technological leadership in monolithic masonry construction. All 40 employees were taken over with an employment guarantee.
According to the announcement of 6 April 2023, Hörl & Hartmann Ziegeltechnik GmbH & Co. KG (Dachau) has taken over DiHa GmbH (Welden near Augsburg) with retroactive effect from 1 January 2023. Founded in 1996, DiHa (Dichtes Haus) is best known in the industry for its well thought-out insulation systems for thermal bridge-free construction and building renovation. Through intensive development work, the company continues to set new standards in the state of the art. Numerous products are protected by patent. "DiHa is a perfect fit for Hörl+Hartmann," says managing partner Michael Hörl. "The product portfolio is on a very high quality level and enables planners and trades to find simple, safe and individual solutions for typical weak points in the building envelope." DiHa company founder Anton Kempter sees the takeover as a win-win situation for both companies. "Hörl+Hartmann and DiHa have outstanding technical solutions that complement each other perfectly and will help solid brick construction take a quantum leap in meeting the strictest energy requirements."
On the one hand, the takeover results in sensible synergies for existing brick system products such as roller shutter boxes, insulating lintels, brick facings, ceiling edge and ring beam formwork. Hörl+Hartmann manufactures these at its plant in Gersthofen, which is only 20 km away. In addition, special insulating formwork for columns and pillars as well as lightweight construction products for ventilation systems, roller shutters, blinds and purlins, among others, are a forward-looking addition. The technically sophisticated products not only have excellent insulation values, but also speed up work processes on the construction site and offer more safety in the execution of demanding details. "The best example is the static window bracket developed and patented by DiHa. It compensates for vertical deflection of the ceiling in large masonry openings. This minimises the risk of malfunctions or damage to large-format window and sliding door elements," Hörl explains.
The acquisition of DiHa also enables Hörl+Hartmann to enter the renovation market. The course for the development of new joint products in the coming years has already been set.
Employment guarantee and changes in the management
DiHa will continue to operate as an independent company. The company's founder and managing director Anton Kempter will act as a consultant in the future. Managing Director Konrad Wetzstein will leave the company and retire. Andreas Klob and Stefan Kempter will remain managing directors as before. In addition, all 40 employees have been taken on with an employment guarantee.