Italian brick and tile industry repositioning itself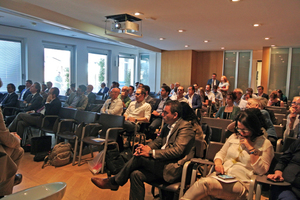 Photos/Fotos: Andil
»1
The attendees listened to the observations on the market situation in Italy
Photos/Fotos: Andil
At the general meeting of Andil, the Italian brick association, on 7 July in Rome, the focus was on earthquake protection and reconstruction with clay bricks in Central Italy.
Innovative products for earthquake zones
During the event, innovative systems developed in the scope of the European research project INSYSME were presented for masonry. These special engineering solutions were designed to increase the safety of the buildings in earthquake-risk regions as well as to demonstrate improved performance regarding a healthy indoor climate, thermal insulation, sound protection, damp protection, fire safety and durability. In the subsequent discussion, experts, key players in the development of the plan for the reconstruction of Central Italy as well as representatives from the construction sector took part. Before the conference, the general meeting of the Italian industrial association Federazione Confindustria Ceramica e Laterizi was held. Highlights included an interview with the Paraguayan architect Solano Benitez, winner of the Golden Lion of the Venice Biennale and world famous for his use of clay bricks in creative, innovative architecture that is affordable for everyone.
Difficult years for Italian brickmakers
At the Andil annual general meeting, the existing Board with President Di Carlantonio and the board members Atila, Briziarelli, Cunial, Cuogo and Danesi were unanimously confirmed in office for another two years. The balance of the Brick Association showed a shortfall as in the previous year.
This year's general meeting took place against the background of the planned merger of the Andil Brick Association with the ceramic association Confindustria Ceramica. Goal of the merger is to gain a better presence in political activities. Andil currently has 68 members.
Since 1985, the Italian Brick Association has systematically recorded the production figures. A crisis like the one the sector has experienced since 2007 has never been known before. »3 shows the development of the production levels in past years and an outlook up to 2020. The very low increases expected for production are influenced by the continued politically instability and generally dissatisfying economic situation and particularly that of the property sector in Italy. The prices for brick products attainable on the market are still not high enough to obtain a positive overall result. In most cases, the EBITDAs are not negative.
Since 2007, 120 companies have been closed. At present, the average calculated capacity utilization of the 111 plants in operation is 35 %. No uniform market development can be observed. Encouragingly, 44 plants that are members in the Association have reported an improved capacity utilization compared to the previous year. At the same time, however, 21 plants reported a lower capacity utilization, in some cases of over 20 %.
The hoped-for improvement in the market situation has not materialized. In view of the rather poor economic outlook for Italy for the forthcoming years, the market will stabilize at the current low level.
Dr. Fritz Moedinger,
Giovanni D'Anna