High-velocity burner for gas and oil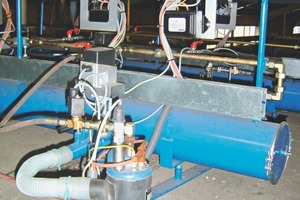 »1
Unitized burner system comprising a control unit (Kromschröder BCU 460), a motor-driven damper for combustion air, and a high-velocity burner with ignition device and optical sensor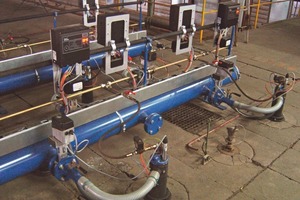 »2
Each burner has its own motor-driven air choke. During impulse operation, the choke opens as soon as the pulse arrives. In the OFF status, the choke is closed, and no cold air can enter the kiln
For years now, innova­therm has been supplying dual-fuel high-velocity burners for gaseous (natural gas or liquid petroleum gas) and liquid fuels. All it takes for the changeover is to switch burner inserts. innovatherm is continuously improving these burners for better energy efficiency and environmental compatibility. While high-velocity gas burners are available from numerous burner manufacturers and combustion plant suppliers, the market offers no wide choice of high-­velocity oil burners for ceramic industrial kilns.
High-velocity burners for light fuel oil and kerosene
This burner is designed as a blue-flame, or vaporizing, burner. Its internal oil conditioning feature enables the produced flame to look almost identical to that of a gas burner. Consequently, innovatherm is able to monitor the flame with a BCU 460 burner control unit by Kromschröder in combination with an optical sensor. The latest version for ignition control and flame monitoring is designed for robust brickyard service in an IP54-type or better enclosure.
The oil has a high supply pressure for accordingly fine atomization and therefore ignites and burns very well in the combustion chamber. Moreover the burner emits minimal NOX and uncombusted exhaust particles in the near-stoichiometric range.
A number of current backing-brick projects for which oil-fired high-velocity burners are being used are listed below:
› Six oil-fired high-velocity burners were installed on the roof of a heavy-oil-fired tunnel kiln used for firing backing bricks. Firing through three rows of stokeholes in the prefiring zone, these burners were intended to eliminate cracks that had been occurring in some of the product lines. The results were convincing – improved temperature balance in the prefiring zone enhanced product quality and stopped the bricks from cracking. At the same time, the colouring of the entire stack of bricks became more uniform. A Kromschröder burner control unit fed by optical sensors monitors the flames status. The burners run close to failure-free and exhibit stable ignition
› Well-structured prefiring is a must for clays with low sintering temperatures in order to ensure an ignition temperature of 750° C for the unignited burners in the main firing zone. This calls for high-velocity burners that are able to provide the requisite ignition temperatures ahead of the main firing zone. At one brick-making plant, three tunnel kilns were equipped with more than 300 oil-fired high-velo­city burners supplied by
innovatherm
› At a third plant, Lingl recently installed innovatherm oil-fired high-velocity burners ahead of the main firing zones of the company's tunnel kilns
innovatherm's oil-fired high-velocity burners are available in two rating ranges. The small burner (approx. 80 kW) is preferentially employed in and around the kiln roof in order to exploit the circulation resulting from the injector effect of the high exit velocities. The more powerful version is ideally suited to installation along the side of the kiln, where the circulating capacity depends on higher heat input.
Both models can be quickly converted from oil to gas by simply exchanging the burner's inner pipe, so kilns can be fuelled either way, depending on the relative price and availability.