Ceremonial inauguration of Mamadysh plant
Brickworks in Tatarstan now in production with Verdés technology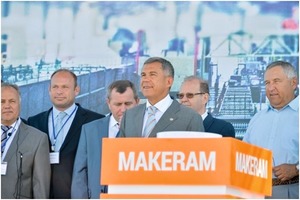 Photos/Fotos: Talleres Felipe Verdés S.A.
»1 At the inauguration of the plant, Rustam Minnikhanov, President of the Republic of Tatarstan (front), stressed the importance of brick as a building material
Photos/Fotos: Talleres Felipe Verdés S.A.
On 6 August, Rustam Minnikhanov, President of Tatarstan; Ildar Khalikov, Prime Minister; Irek Faizullin, Minister of Construction, and Carlos Gorchs, Managing Director of Talleres Felipe Verdés S.A., inaugurated the new brickmaking plant at CJSC "Stroiservice" in ­Mamadysh, Republic of Tatarstan, in an opening ceremony.
Speaking at the ceremony, Rustam Minnikhanov explained that once the plant had been commissioned, its capacity will reach 60 mill. bricks per year. The President praised clay brick as a modern and high-demand construction material. He thanked the Spanish partners and the investors for their assistance in modernization of the production. Rustam Minnikhanov noted that the new plant had been opened on the eve of Constructor's Day and congratulated all constructors on their professional holiday.
The Mamadysh plant is the second plant in the Republic of Tatarstan that is fully equipped with Verdés technology. Another famous manufacturer of high quality facing bricks on Verdés equipment - FON plant  in Verkhneuslonsky district of this Republic – is in operation for more than six years.